Annual Report
The Annual Report gives a wide-ranging account of current Eawag projects. It is published in English and German, and since 2013 also in French.
Annual Report 2015
Solution-oriented research and exchanges with practitioners in the water sector are two of Eawag's chief objectives. The Annual Report 2015 shows you a cross section of this engagement during the past year.
Annual Reports 1997-2014
Annual Report 2006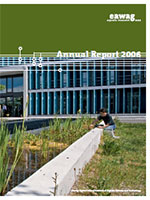 Previous reports are available in German only.
Annual Reports from 1970