Bernhard Truffer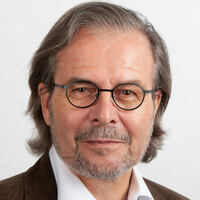 Prof. Dr. Bernhard Truffer
Department Environmental Social Sciences
About Me
Head of Department Environmental Social Sciences
Cluster leader Cirus

Research interests

Technological Innovation Systems & Industry dynamics
Geography of transitions
Institutional dimensions of transition processes
Sustainable transformation of infrastructure sectors (particularly urban water management)
Foresight and strategic planning
Science and technology studies (STS)
Inter- and transdisciplinary research
Academic Affiliations and Lecturing appointments
2011 - today        Adjunct professor at the institute of geography University of Bern
1996 - today        Lecturer at the ETH Environmental Science Department D-Usys (Lecturer)
2005 - 2009        Affiliated researcher to the Science Policy Group at the Social Science Resarch Center                            (WZB), Berlin
2002 - 2010        Lecturer at the institute of geography University of Berne
1993 - 1994        Lecturer at University of Neuchâtel, institute of Geography, Human dimensions of global                            climate change

1988 - 1992         Lecturer/Assistant at University of Fribourg (Social and Economic Geography)
1994 - 1995         Lecturer at the institute of geography University of Neuchâtel

Editorial activities
Journal                                                                      Role                   Since
Environmental Innovation and Societal Transitions    Associate editor   2010
Environmental Development                                       Board Member     2011
GAIA                                                                           Board Member     2011
Research Policy                                                          Board Member     2014

Awards and Distinctions
2014    Nominated by the International Association of Management of Technology (IAMOT) as one of the             top 50 authors of technology and innovation management over the last 5 years. (based on a             quantitative analysis of research output from 2008-2012).
2013    Best Paper award of the journal Regional Studies for Truffer, B., Coenen, L. 2012 Environmental             innovation and sustainability transitions in regional studies. Regional Studies. 46 (2), 1-22.
2012    Winner of the Chris Freeman award 2012 for the Special issue in Research policy on             sustainability transitions edited by Jochen Markard, Rob Raven and Bernhard Truffer. The             Freeman award is made for a publication which is the most significant collective contribution to             the interaction of science and technology studies with the study of innovation
2010    The Dutch KSI price for the "Outstanding paper in the field of Transitions and Innovation             Systems" for the paper Markard, J., Truffer, B. 2008. Technological innovation systems and the             multi-level perspective: towards an integrated framework. Research Policy, 37, 596–615.
2008    The "Best Paper 2007 Award" of the Journal Environmental Modelling and Software in the             category "Integrated Modelling": Reichert, P., Borsuk, M., Hostmann, M., Schweizer, S., Spörri, C.,             Tockner, K., Truffer, B. 2007. Concepts of decision support for river rehabilitation. Environmental             Modeling and Software, 22, 188 - 201.
2000    Winner of the Swiss Transdiciplinarity Award 2000 for "addressing a political hot spot in             Switzerland with professional interdisciplinary research as well as a regard for political and             economic realities and nescessities". SFr 15'000.-
1993    Doctoral thesis "Rententheorie und Nutzungsdynamik" at the University of Fribourg awarded with             summa cum laude.

Professional Degrees
2011         Adjunct professor at the institute of geography, University of Bern

2006         Habilitation (venia docendi) at the University of Berne in the domain of "economic geography                  and sustainable development" based on the Habilitation thesis "The analysis of                                    socio-technical innovations in environmental and regional research"

1993         Ph. D. University of Fribourg (Switzerland) in Economic Geography ("Neo-Ricardian land rent                  theory and urban land use dynamics", summa cum laude).

1987         M.Sc. University of Fribourg (Switzerland) in Human and Economic Geography (secondary                        degrees in Mathematics and Economics)

1984        High. Teach. University of Fribourg (Switzerland) in science and mathematics track

Curriculum Vitae
| | |
| --- | --- |
| {{ entry.date || 'empty' }} | |
Address
E-Mail:
bernhard.truffer@cluttereawag.ch
Phone:
+41 58 765 5670
Fax:
+41 58 765 5802
Address:
Eawag
Überlandstrasse 133 Postfach 611
8600 Dübendorf
Schweiz
Office:
FC E27
Expert on
wastewater, decentralized technologies, transdisciplinary research, hydropower
{{ element.title || 'Empty' }}