Publications for practitioners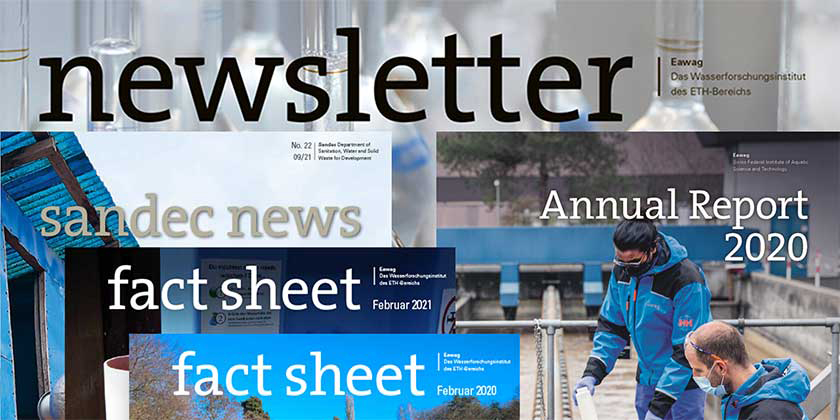 Eawag's newsletter contains articles on topics that are relevant to practical applications in the aquatic field. It is published six times a year in German, French and English. In addition, two special newsletters a year provide in-depth information on a current research topic at Eawag.
In the archive, older issues of the former publication "Eawag News" are available for download in German, English, French and Chinese.
The Annual Report gives a wide-ranging account of current Eawag projects. It is published in English, French and German.
Sandec News, which is produced by the "Sanitation, Water and Solid Waste for Development" department, provides information in the areas of water treatment, urban sanitation, sewage disposal and waste management in developing countries. The newsletter is published once a year in English.
The latest scientific facts in topics with current political relevance are compiled in the Eawag Fact Sheets. These provide information and background material to aid those involved in decision-making, and are published in German, French and English.
Topic pages and Frequently Asked Questions (FAQ)
Resource recovery
Microplastics
Plant protection agents
Biodiversity
Corona in wastewater
Cyanobacteria
Factsheets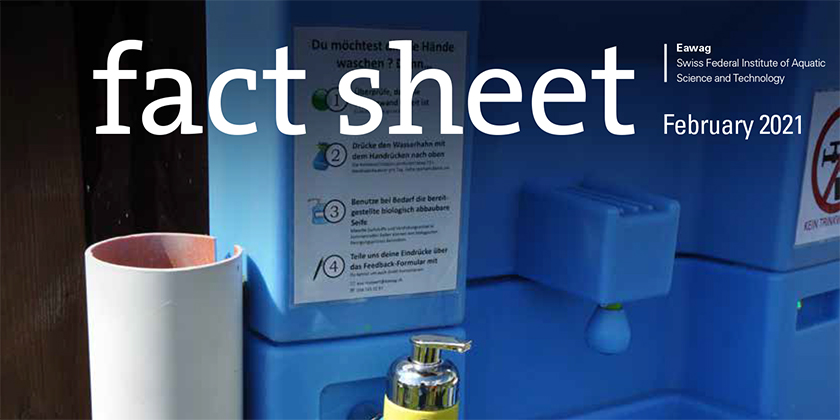 Blackwater, 03/2022

[578KB]

Greywater, 02/2021

[250KB]

Chlorothalonil residues put strain on water supply, 2/2020 (available in German and French)
Urine source separation, 5/2019

[344KB]

Pyrethroide in der Umwelt, 11/2017 (available in German and French)
Comments about the revision of apendix 2 in the Waters Protection Ordinance (monitoring values EQS; November 2017) – available in German and French (coming soon)
Info sheet on microplastics in the environment, 7/2015 (available in German and French)
Invasive species spread by recreational boats transported overland, 6/2015 (available in German and French)
FAQs on agricultural pesticides in rivers, lakes and groundwater, 9/2014 (available in German and French)
Ecotoxicological assessments of pesticide concentrations in surface waters: monitoring values (EQS) and authorisation values (RAC), 9/2014 (available in German and French)
Phosphorus in Lake Lucerne – Eawag positions, 6/2014 (available in German)
River Corridors, 9/2013 (available in German and French)
Hydraulic Fracturing, 4/2013

[215KB]

Removal of micropollutants: ozonation, 4/2012 (available in German and French)
Removal of micropollutants: Powder Activated Carbon, 4/2012 (available in German and French)
Removal of micropollutants: energy consumption, 4/2012 (available in German and French)
Facts about phosphorus in Lake Brienz, 1/2012 (available in German and French)
Frequently asked questions about road salt, 12/2011 (available in German and French)
Water and energy, 10/2011

[239KB]

Hydropower and ecology, 9/2011

[487KB]

Marine Oil Spills, 7/2010

[48KB]

Revitalization of Swiss rivers urgently needed, 3/2009 (available in German)
Substances which change our hormone, 3/2009 (available in German)
Biocidal in waters, 11/2008 (available in German)
Contact
The Water Timeline