Department Environmental Social Sciences
Explaining the use of safe water kiosks in Kenya: Sociodemographic, contextual and socio-cognitive determinants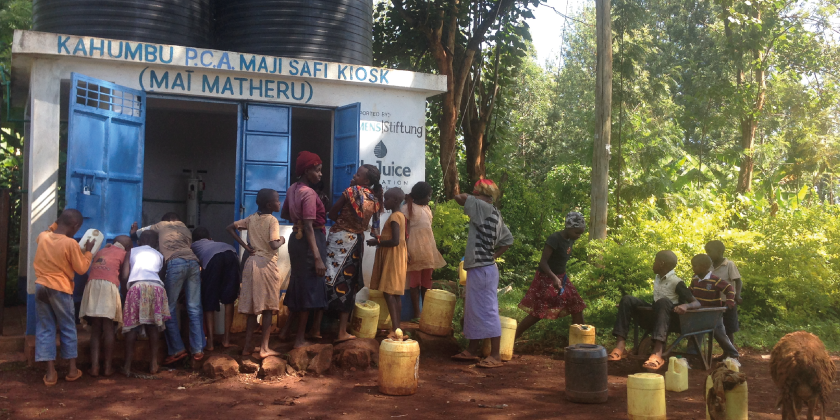 Project description
In developing countries, piped water systems often fail to provide access to safe water in rural areas and informal urban settlements. In these contexts, safe water kiosks may substitute piped water systems. The present project aimed to investigate factors explaining the (regular) use of safe water kiosks in three Kenyan communities.


Context
In many sub-Saharan countries, including Kenya, the Millennium Development Goal on safe drinking water has not been met. Especially in rural areas and informal urban settlements piped water systems often fail to provide access to safe water. Safe water kiosks may substitute piped water systems. However, having access to a safe water kiosk (or any other safe water source) does not directly translate into its use. Little is known on factors determining the use of safe water kiosks.


Objective
The main goal of this project was to investigate potential explanatory factors for the consumption of drinking water from safe water kiosks.


Activities
Determine the factors explaining use of safe water kiosks:
We conducted a survey in November and December 2014 in 430 households measuring the following:

Used water sources
Water consumption
Potential explanatory factors: Socio-demographic factors (e.g. wealth), contextual factors (e.g. characteristics of competing water sources), demand and willingness-to-pay for safe water, user satisfaction, and socio-cognitive determinants of behavior change

By means of data analyses we specified the factors explaining (regular) kiosk use.

Findings
Only few people were currently using the safe water kiosks.
Consumption of water from safe water kiosk was best explained by the perceived ease of fetching water at the kiosk (i.e. not costly, not time-consuming, not effortful). Other relevant factors were the satisfaction with the kiosk management and operation; knowledge about the causes of diarrheal disease; the perceived water safety, and others' behavior.
Among kiosk users, consumption was best explained by action control, i.e. the effort put into behavior monitoring and adjustment. Other relevant factors were the households' wealth, habit of household water treatment, satisfaction with the kiosk management and operation, perceived monetary costs, and commitment.

Conclusions
Standard health promotions, affecting perceived risks and health knowledge, might be ineffective to increase use of safe water kiosks.
Safe water kiosks might be successfully promoted through increasing social norms, perceived ease of behavior, action control and commitment and by lowering perceived costs and efforts.
To be successful, safe water kiosk have to deliver a good service satisfying the customers' expectations with regard to management and operation.