Department Sanitation, Water and Solid Waste for Development
Resource Recovery Through Improved Faecal Sludge Dewatering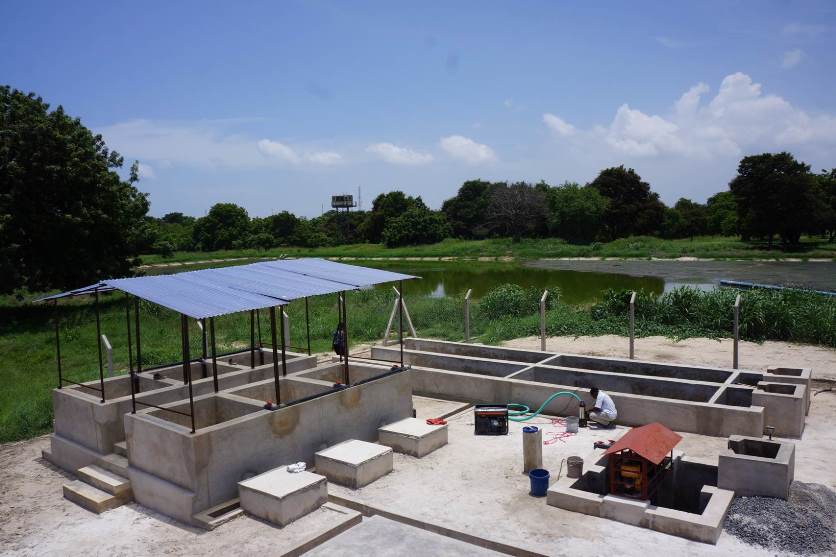 In Sub-Saharan Africa, energy recovery from char briquettes produced from carbonized faecal sludge has a high revenue potential. Revenue from sales of char briquettes can be used to offset faecal sludge treatment costs. However, in urban areas, faecal sludge faecal sludge is commonly >95% of water. This makes faecal sludge dewatering indispensable if energy recovery from faecal sludge through solid fuels is the treatment goal.
Laboratory research by Sandec and its research partners in Dakar, Senegal, identified that locally available conditioners can increase faecal sludge dewatering. Conditioners which can be produced locally such as chitosan from shrimp waste have the advantage that they may not need to be imported, are cheaper and do not rely on a complex supply chain. At the University of Dar es Salaam in Tanzania, the project team constructed a pilot-scale dewatering facility to assess the use of locally available conditioners for faecal sludge in Dar es Salaam.
Dewatered faecal sludge produced at the dewatering facility will be used for carbonization experiments at the University of Dar es Salaam. The goal is to assess its potential for carbonization to produce char briquettes to offset treatment costs.
References
Kimwaga, R., Esanju, M., Moto, N., Mbwette, T., Rajabu, H., Gold, M., Strande, L. 2016. Faecal sludge dewatering research to increase the resource recovery potential as biochar and solid fuel: The UDSM pilot-scale (First Price Research Week College of Engineering and Technology, University of Dar es Salaam).
Mwamlima, P. 2017, Characterization and improvement of char quality from pyrolyzed faecal sludge in Dar es Salaam, Tanzania.
Andriessen, N., Kimwaga, R., Strande, L. 2017. A Pilot-Scale Faecal Sludge Research Facility in Dar es Salaam, Tanzania.
Egloff, M. & Whett, K. 2018. Life cycle assessment of different technologies for faecal sludge management. Project thesis ZHAW School of Engineering. Available on request.