Department Sanitation, Water and Solid Waste for Development
Assessing the impact of safe water interventions on child health in Nepal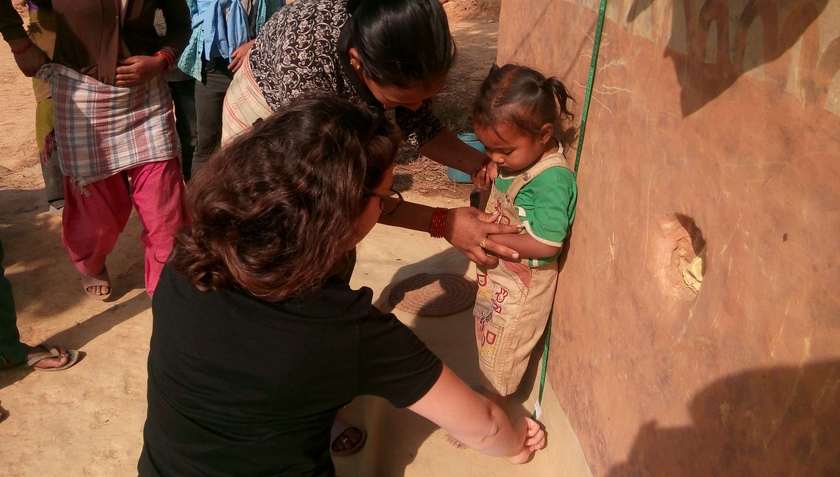 Child health is at high risk due to the consumption of unsafe water and poor hygiene conditions. We are therefore conducting a randomized controlled trial in remote hilly areas Western Nepal to assess the impact of a water quality intervention that comprises of system level water chlorination versus an intervention that promotes household water treatment using ceramic water filters.
The research design consists of data collection at the baseline and after the implementation of 4 different interventions: A) installation of a system for passive chlorination to treat drinking water at the scheme level and hygiene education activities at household level; B) providing access to high quality products for household water treatment and safe storage, including training on adequate product operation and maintenance and hygiene education activities at household level; C) hygiene education activities at household level; D) a control area without intervention.
Data is being collected from 1400 households including children to
1) determine the health burden among children within the households before and after the intervention
water-borne diseases (diarrhoea and intestinal parasitic infections),
malnutrition (anthropometric measurements) and nutritional deficiencies.
2) analyse the impact of the water quality and hygiene intervention on:
Water quality at the point of collection as well as at the point of consumption;
Availability, condition and use of water, sanitation and hygiene infrastructure;
Knowledge, attitude and practice of water management and hygiene.
Publications
Journal Publications
Shrestha, A.; Six, J.; Dahal, D.; Marks, S.; Meierhofer, R. (2020)
Association of nutrition, water, sanitation and hygiene practices with children's nutritional status, intestinal parasitic infections and diarrhoea in rural Nepal: a cross-sectional study,
BMC Public Health
, 20(1),
1241 (21 pp.)
,
doi:

10.1186/s12889-020-09302-3
,
Institutional Repository