Blue-Green Biodiversity at INTECOL
August 28, 2022 - September 2, 2022, 8.30 am - 6.30 pm
International conference center, Geneva, Switzerland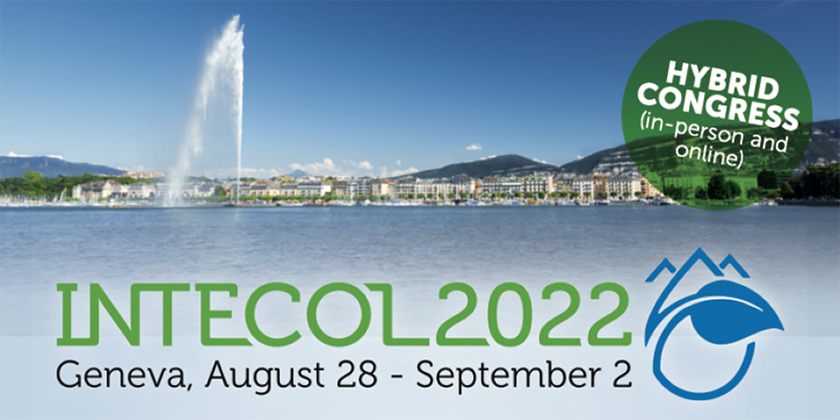 The International Association for Ecology (INTECOL) encourages ecological science and its application around the world for over 50 years. The Blue-Green Biodiversity (BGB) Research Initiative led by Eawag and WSL researchers invites you to the following sessions:
S1.5: Blue and green biodiversity: ecological patterns, processes and responses to global change in terrestrial and aquatic systems
This session will compare biodiversity dynamics across often interconnected terrestrial and aquatic systems with an emphasis on understanding and predicting ecosystem responses to global change.
Contact: Maja Ilić
S2.8: Aquatic to terrestrial food web connections: reciprocal risks or biodiversity benefits
Aquatic and terrestrial ecosystems are interconnected through reciprocal subsidies of nutrients and energy as well as contaminants - this symposium will consider both the risks and benefits of aquatic to terrestrial subsidies for terrestrial consumers in changing landscapes
Contact: Lily Twining
One of the goals of this year's hybrid Intecol conference is to increase participation by under-represented groups in ecology and evolutionary biology, especially those from the Global South and those who identify as BIPOC. Several conference sessions will explicitly focus on ecology in Africa, decolonizing science, and traditional indigenous knowledge. We also especially encourage submissions to our sessions from early career researchers (e.g., students, postdocs, and non-tenured faculty) and from women. We appreciate you forwarding this announcement to members of your group and network.
Submit your abstract until March 31st: Abstracts Submission Portal (eventsair.com)