Jürg Sigrist – winner in SNSF photography competition
Scientists aplenty took up the challenge issued in November 2016 by the Swiss National Science Foundation (SNSF) to take part in a photo competition of scientific images. The competition was designed to help get everyday research photographs into the public eye, with the aim of highlighting surprising elements of research, and shedding light on today's world of research work. A total of 437 images and 60 videos were submitted by 239 competitors from every part of the country. The winners of each of the four competition categories were selected by an international jury, and a further 11 submissions were highly commended. The prize-winning images can be seen at the Biel Festival of Photography from 5th to 28th May, as well as online on the SNSF website. The prize giving is due to take place on 10th May 2017 in Biel.
The winning photograph in the "Women and Men of Science" category impressed the judges with its aesthetics and its impression of timelessness. The image, taken by Jürg Sigrist, a technician at Eawag, shows a female biologist enveloped in a cloud of liquid nitrogen. The photo was taken at the liquid nitrogen dispensing point in Eawag. A doctoral student needed the nitrogen for rupturing cells in order to obtain DNA. Because of the low outdoor temperature, thick clouds formed at the end of the gas phase at the nitrogen tank.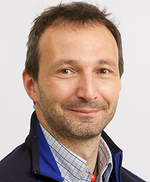 Jürg Sigrist from the Environmental Microbiology department