NAWA SPEZ
Investigations into pesticide contamination in surface waters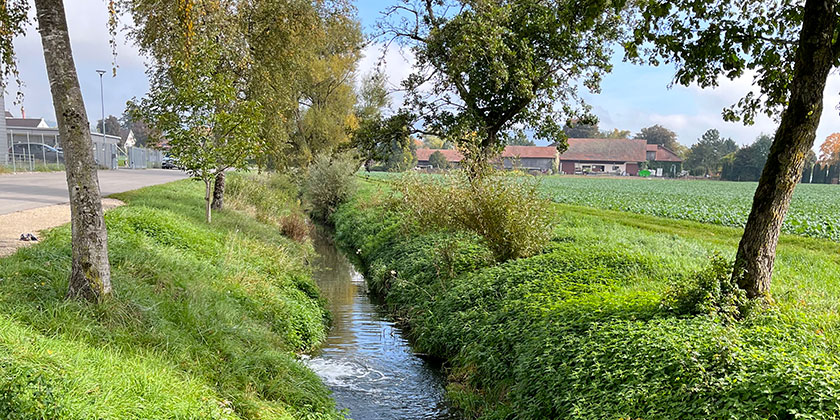 The contamination of our surface waters with organic micropollutants represents quite a challenge for water protection. In order to assess the situation and evaluate the changes in water quality of Switzerland's surface waters, Switzerland's Federal Office for the Environment (FOEN) and the cantonal administrations have established the National Surface Water Quality Monitoring Programme (NAWA). Alongside regular monitoring, the programme also incorporates special surveys (NAWA SPEZ) with various specific aims. In 2012, 2015 and 2017, three monitoring programmes investigated and assessed the nature and extent of watercourse pollution with biocides and plant protection products (PPPs). The studies were carried out in close collaboration with Eawag, the Ecotox Centre, the cantons, the Swiss Water Association and the FOEN, and are the most detailed and extensive studies of their kind to date.
The aim of all of the studies was to examine the pollutant load using the latest analytical methods — which are now able to provide a much more comprehensive picture than was even possible just a few years ago. The measurement data were then evaluated in terms of current legislation and against ecotoxicological quality criteria. Each of the three studies had a different focus:
Investigations into pesticide contamination in surface waters
NAWA SPEZ 2017: Small watercourses – chemical and ecotoxicological methods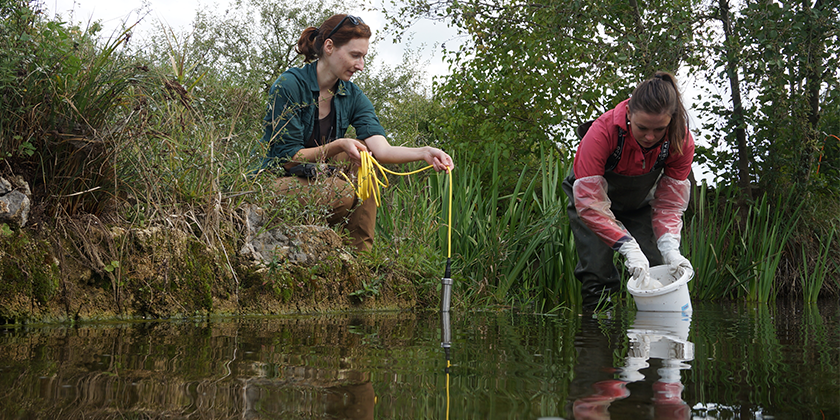 The focus of the NAWA SPEZ survey is once again on pollution from plant protection agents in small watercourses in areas with heavy agricultural use. Two out of the five areas are being surveyed for a second time, which will allow the researchers to make comparisons between the two survey years — something which has not been done previously. Experience gained through the previous two studies led the researchers to extend the 2017 monitoring period by two months, with measurements being taken between the beginning of March and the end of October. Three half-day mixed samples were taken and analysed for PPPs. The emphasis of NAWA SPEZ 2017 is being placed on the employment of further, supplementary chemical and biological methods.
NAWA SPEZ 2015: Small watercourses – an overview of pesticide contamination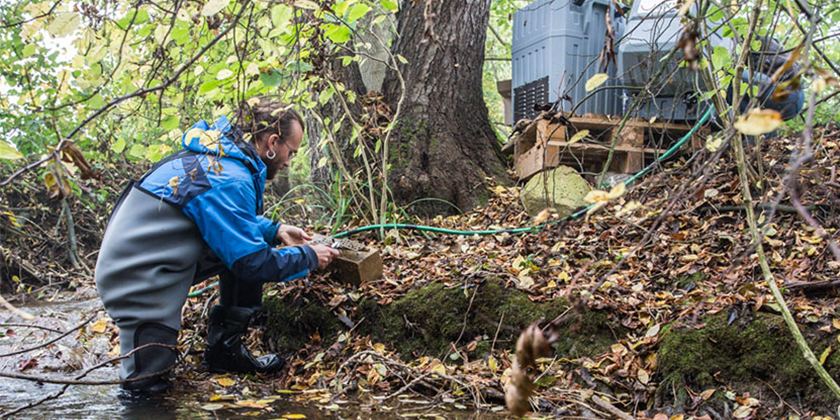 An initial evaluation of data collected in Switzerland on pesticide load revealed that only 20% of the data came from small watercourses, even though these make up 75% of the total distance covered by Switzerland's network of watercourses (Munz et al. 2012). Moreover, the monitoring programmes were often temporally limited, or restricted to random sampling. The aim of the second NAWA SPEZ study was therefore to close these gaps.
Five small watercourses in areas with heavy agricultural use were screened for 213 active PPP substances. The work was carried out with a variable temporal resolution, whereby half-day mixed samples were taken during rainfall events, and longer mixed samples (from 24 hours to a maximum of 24 days) were taken during dry periods. The analytics employed enabled 70% of the PPPs permitted in 2015 to be measured. Also measured were numerous PPPs which were no longer permitted, but which were still found to be present in the environment because of their slow degradation times.
Altogether 128 PPPs were found to be present. Chronic quality criteria were exceeded in all of the catchment areas, and in four of the catchment areas acute quality criteria were also exceeded. The comparison with NAWA SPEZ 2012 showed that the peaks in contaminants in small watercourses are short-lived, but concentrations are, on the other hand, higher. A significant proportion of the instances of acute quality criteria being exceeded are attributable to this effect.
The catchment areas surveyed were all subject to a comparable level of agricultural use. Estimates indicated that although pollution levels may be lower in areas that are less heavily used for agricultural purposes, effects on sensitive aquatic organisms could not be ruled out in these areas. In terms of recommendations for routine monitoring going forward, it was shown that it is also possible to gather a substantial amount of pollution data with a reduced amount of effort: so, for the 41 PPP substances that were proposed in the Assessment Strategy for diffuse inputs, 72% of the chronic quality criteria, and 87% of the acute quality criteria were found to have been exceeded as a result of PPP inputs. It is important that measurements are taken over a sufficiently long period, as in some of the catchment areas the concentration levels were found to be increasing even at the end of the monitoring period.
Spycher, S.; Mangold, S.; Doppler, T.; Junghans, M.; Wittmer, I.; Stamm, C.; Singer, H. (2018)
Pesticide risks in small streams - how to get as close as possible to the stress imposed on aquatic organisms,
Environmental Science and Technology
, 52(8),
4526
-4535
,
doi:

10.1021/acs.est.8b00077
,
Institutional Repository
Langer, M.; Junghans, M.; Spycher, S.; Koster, M.; Baumgartner, C.; Vermeissen, E.; Werner, I. (2017)
Hohe ökotoxikologische Risiken in Bächen. NAWA SPEZ untersucht Bäche in Gebieten mit intensiver landwirtschaftlicher Nutzung,
Aqua & Gas
, 97(4),
58
-68
,
Institutional Repository
NAWA SPEZ 2012: Medium-sized watercourses – overview of pesticide load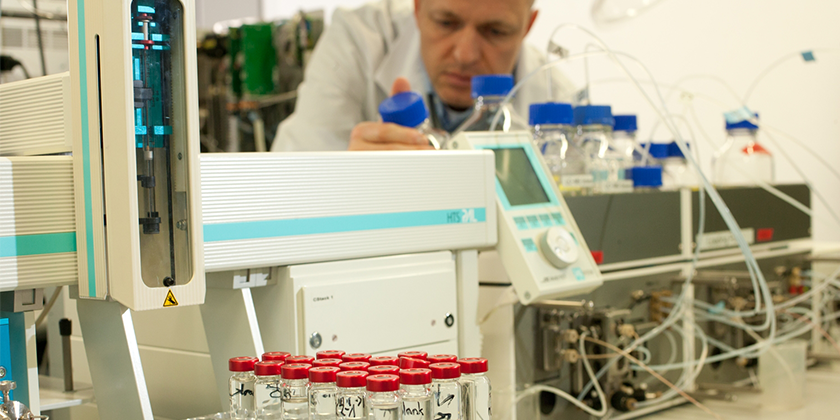 The aim of the first NAWA SPEZ study was to gain a thorough understanding of which particular substances were contributing the most to pollutant loads. Five medium-sized watercourses were screened for biocides and PPPs using two-week mixed samples. The comprehensive analytics employed enabled the researchers to measure 81% of all polar organic and synthetic biocides and 91% of all polar organic and synthetic PPPs.
Altogether 104 pesticides were identified as being present, of which 82 substances were purely PPPs, 20 were substances permitted for dual use (as PPPs as well as biocide) and two were purely biocides. Chronic quality criteria were exceeded in all of the catchment areas. The results of the study underline the prominence of PPPs in the material pollution of surface waters. The information thereby gleaned formed a core part of the Assessment Strategy for Micropollutants developed by Eawag and the Centre for Ecotoxicology, which determined the list of substances to be prioritised for evaluation within the routine monitoring programme.
Project Team