Department Process Engineering
VUNA – Nutrient Recovery from Urine
By recovering nutrients from urine, we develop a dry sanitation system, which is affordable, produces a valuable fertiliser, promotes entrepreneurship and reduces pollution of water resources. Project duration: 2010 to 2015.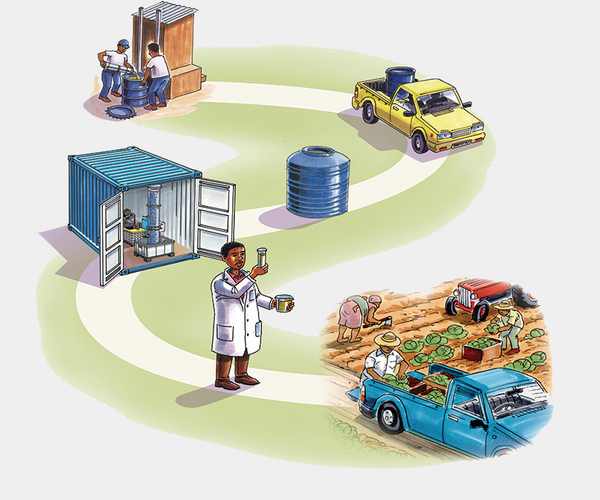 Research
The VUNA Project researched on the following topics. Download the VUNA Final Report for a detailed overview on our results. Also visit our publications list below, to access numerous publications free of charge.
Nutrient Recovery Processes

Our body excretes the majority of nutrients in the urine (and not in the faeces). By collecting urine separately, we can recover valuable nutrients, e.g. nitrogen, phosphorus, potassium. At the same time, we prevent pollution of surface waters with high nutrient loads.
VUNA Nutrient Recovery Pilots
VUNA Nutrient Recovery Technologies
Risks of Using Urine

Urine and Fertiliser Quality
The foremost goals of urine treatment are the recovery of nutrients for beneficial use. However, the urine treatment processes must also ensure that the end-products are safe to use, provide adequate human and environmental health protection, and are of adequate quality to ensure optimal market value. Pathogens and pharmaceuticals could potentially impact the quality of end products.
Research activities:
Removing pharmaceuticals: The majority of pharmaceutical residues are excreted in the urine (and not the faeces). Hence, the separate collection of urine isolates pharmaceuticals and prevents them from entering the environment. Experiments showed that long-term storage is not sufficient to remove pharmaceuticals. Nevertheless, processes occurring during nitrification, are suitable to remove certain pharmaceuticals. Virtually all pharmaceuticals can be removed in an activated carbon filter.
Inactivating pathogens: Whereas some pathogens can be excreted in the urine, others are introduced from cross-contamination with faeces during urine collection. We evaluated the viability of representative pathogens during urine treatment. We observed partial disinfection through urine storage and nitrification. Distillation is assumed to eliminate all pathogens due to high temperatures. Research partners: Environmental Chemistry Laboratory at EPFL.
Agriculture
Testing VUNA fertilisers on crops
In VUNA affiliated projects, our fertilisers are being tested in South Africa and Switzerland. At the UKZN Agricultural Engineering Department in Pietermaritzburg, crop scientists fertilised maize in a pot trial with struvite, dehydrated and pasteurised latrine faecal sludge pellets and commercial superphosphate.
At ETH in Zurich, the Plant Nutrition Group produced isotope-marked struvite and nitrification/distillation product. The tests in ETHZ's greenhouse showed that plants assimilate nutrients from VUNA fertilisers at least as readily as from commercial fertilisers.
In 2015, the Federal Office of Agriculture (FOAG) issued a temporary license for our:
Aurin Liquid Fertiliser
Urine Collection Network

eThekwini Water and Sanitation introduced urine-diverting toilets as a system to supply sanitation to unserved regions, where water is scarce and water-borne sewer systems are too costly. Therefore a cost-efficient and optimised urine collection approach is necessary to harvest the valuable nutrients in urine.
Research activities:
Optimising urine collection: We aim to make urine collection more cost efficient. Therefore, we implemented a pilot urine collection scheme to gain experiences and suggest improvements. Based on the evaluated costs, we are currently developing a business plan.
Performance Modelling: The entire system of urine collection, transport and decentralised treatment consists of a large number of interconnected elements (e.g. toilets, storage tanks, treatment reactors) which influence the overall system performance (e.g. pollution control, urban hygiene, fertilizer production). Using a combination of system analysis and mathematical modelling we identified critical elements, evaluated the value of particular measurement schemes and estimated the overall system performance.
Social and Economic Aspects

The success of any sanitation programme depends on people's willingness to accept it. Urine-diverting toilets are still not well accepted by many. In order to increase acceptance, health and hygiene education is needed.
Research activities:
Social acceptance: We accompanied the introduction of the VUNA technologies with studies, which investigated the socio-cultural perceptions and factors influencing users' acceptance.
Campaigning for health & hyigene: Based on our findings from the acceptance studies, we developed appropriate educational activities and awareness material, e.g. for households and schools.
Incentives for urine production: By giving urine a financial value, we tested how to increase toilet use, improve hygiene, reduce loss of valuable nutrients and augment household income for the poorest.
Business model: To better understand the value chain from urine to fertiliser, we analysed the various components of the nutrient recovery system with a business perspective.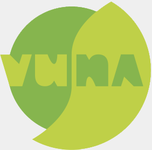 About us
An acronym, name and motto at the same time, VUNA stands for Valorisation of Urine Nutrients in Africa, and is the name of our project. In isiZulu, the language of the project area in the municipality of eThekwini, South Africa, the word 'vuna' means harvest. A healthy harvest follows a balanced nutrient application to the crops. And, in the case of the VUNA project, we harvest the necessary nutrients from urine.
Project Team

Steering Committee
Principal Investigators
Project Coordination
Urine Treatment Processes
Risks of Using Urine
Agriculture
Urine Collection Networks
Social and Economic Opportunities
Bill & Melinda Gates Foundation
Former Team Members
Complete Recovery: Michael Wächter, Mathias Mosberger, Maximilian Grau, Sara Rhoton
Nitrification: Alexandra Florin, Corine Uhlmann, Gabriel Kämpf
Distillation: Michael Wächter, Samuel Huber, Mischa Schwaninger, Thomas Gmeinwieser
Electrolysis: Christina Fritzsche, Annette Remmele, Anja Sutter
Struvite: Maximilian Grau, Sara Rhoton, Merlien Reddy, Sibongile Maqubela, Mlungisi Mthembu, Samukelisiwe 'Thandi' Cele, Musawenkosi 'Moussa' Ndlovu
Process Control: Ana Santos, Lorenzo Garbani Marcantini, Angelika Hess, Elisabeth Grimon
Pharmaceuticals: Birge D. Oezel Duygan, Annette Remmele
Pathogens: Manfred Schoger, Ariane Schertenleib, Sara Oppenheimer, Simon Schindelholz
Urine Collection: Peter Spohn, Lucky Sibiya
Performance Modelling: Theresa Rossboth, Thomas Hug, Andreas Scheidegger
Social Acceptance: Elisa Roma, Marietjie Coertzen
Incentives: Leeanne MacGregor
Business model: Luzius Etter
BMGF: Alyse Schrecongost
Documentation: Corine Uhlmann, Nina Gubser, Susan Mercer
Documentation
For an overview on the VUNA Project, download the VUNA Final Report 2015. For more in-depth information, have a look at the news articles, videos, and publications below.
Videos
VUNA at the Faecal Sludge Management Conference 2012
Publications – Conference Papers (Incl. Downloads)
Publications – Referenced (with Links to RefWorks)
Publications – Not (yet) referenced
Urine Treatment Processes
Fumasoli, A. (2016) Nitrification of urine as pretreatment for nutrient recovery. PhD thesis, ETH Zurich.
Fumasoli, A., Weissbrodt, D., Wells, G.F., Bürgmann, H., Mohn, J., Morgenroth E., Udert K.M. (2015) Low pH selects for nitrosococcus in high and nitrosospira in low salt environments. In preparation.
Grau, M.G.P., Rhoton, S., Brouckaert, C.J., Buckley, C.A. (2015) Development of a fully automated struvite reactor to recover phosphorus from source-separated urine collected at urine diversion toilets in eThekwini. Water SA, 41(3), 383-389.
Grimon, E. (2015) Sensor characterization & monitoring for soft-sensing of urine nitrification systems. Master's thesis, ETH Zurich.
Hess, A. (2015) Feasibility of UV-Vis spectrophotometry for nitrite estimation in urine nitrification systems. Master's thesis, ETH Zurich.
Santos, A.T.L. (2014) Evaluation of UV spectrophotometry for estimation of nitrite and nitrate in nitrified urine. Master's thesis. Universidade Nova de Lisboa.
Wächter, M., Huber, S., Kluge, J., Mazzotti, M., Udert, K.M. (2015) Selective crystallization of sodium chloride (NaCl) from partially nitrified urine. In preparation.
Wächter, M., Schwaninger, M., Gmeinwieser, T., Udert K.M. (2015) Safety assessment for production and storage of nitrified and concentrated fertilizer from human urine. In preparation.
Risks of Using Urine
Bischel, H.N., Schindelholz, S., Schoger, M., Decrey, L., Bosshard, F., Udert, K.M., Kohn, T. (2015) Bacteria inactivation during drying of struvite fertilizers produced from stored urine. In preparation.
Decrey, L. (2015) Virus inactivation in human excreta and animal manure. PhD thesis, EPF Lausanne.
Oezel Duygan, B.D., Udert, K.M., Remmele, A., McArdell, C.S. (2015) Fate of pharmaceuticals in source-separated urine during storage, biological treatment and powdered activated carbon adsorption. In preparation.
Oezel, B.D. (2013) Fate of pharmaceuticals during urine treatment in laboratory batch experiments: can urine be used as fertilizer in South Africa? Master's thesis, ETH Zurich.
Schertenleib, A. (2014) Inactivation of pathogens in urine nitrification reactors. Master's thesis, EPF Lausanne.
Schoger, M. (2011) Bacterial inactivation in struvite recovered from urine in South Africa. Master's thesis, EPF Lausanne.
Agriculture
Bonvin, C. (2013) Recycling of phosphorus & nitrogen from human urine: evaluation of urine based fertilizers in a pot experiment. Master's thesis, ETH Zurich.
Urine Collection Networks
Joseph, H.R. (2015) Develop and describe a suitable logistic collection system for urine harvesting in eThekwini. Master's thesis, University of KwaZulu-Natal. In preparation.
Rossboth,T., Udert, K.M., Maurer, M. (2015) Using stochastic modelling to support urine collection scheme planning in South Africa. In preparation.
Social and Economic Aspects
Etter, B., Etter, L., Joseph, H.R., Grau, M.G.P., Chetty, S., Gounden, T., Gebauer, H., Udert, K.M. (2015) Financial opportunities for complete nutrient recovery from source-separated urine in eThekwini, South Africa. In preparation.
Mkhize, N. (2015) The role of health & hygiene education in the accept- ance, utilisation, and maintenance of urine diversion toilets in rural communities of KwaZulu-Natal (preliminary title). Master's thesis, University of KwaZulu-Natal. In preparation.
Mkhize, N., Taylor, M., Ramsay, L.F., Buckley C.A., Gounden, T. (2015) Urine-diverting toilets acceptance, use and maintenance: through users eyes. In preparation.
Okem, A.E., Xulu, S., Tilley, E., Buckley, C., Roma E. (2013) Assessing perceptions and willingness to use urine in agriculture: a case study from rural areas of eThekwini municipality, South Africa. Journal of Water Sanitation and Hygiene for Development 3(4), 582-591.
Ramsay, L.F., Coertzen, M., Buckley, C.A., Gounden, T. (2015) The power of perception: views and practices related to urine diversion toilets in the eThekwini Municipality, South Africa. In preparation.
Roma, E., Philp, K., Buckley, C., Xulu, S., Scott, D. (2013) User percep- tions of urine diversion dehydration toilets: Experiences from a cross- sectional study in eThekwini Municipality. Water SA 39(2), 305-312.
Tilley, E. (2015) Acceptance, impact & feasibility of incentives for increasing toilet use: a case study in eThekwini, South Africa. PhD Thesis, ETHZ.
Tilley, E., Logar, I., Guenther, I. (2015) Giving respondents time to think about a conditional cash transfer program: a choice experiment in rural South Africa. In preparation.
Tilley, E., Guenther, I. (2015) The impact of conditional cash transfers on toilet use. In preparation.
Tilley, E. (2015) Cost-effectiveness and community impacts of two urine-collection programs in rural South Africa. In preparation.
Tilley, E., Günther, I. (2014) Mobile phones for collecting WaSH data in low-income countries. WEDC International Conference.