Department Sanitation, Water and Solid Waste for Development
SEEK - Sludge to Energy Enterprises in Kampala
In Kampala, Sandec and its research partners research the viability of co‑processing of faecal sludge and other urban waste streams to produce fuel pellets and with these electricity through gasification. The SEEK project will establish a pilot-scale research facility and conduct market research to provide reliable data, working towards market implementation of technologies and endproducts.
Context:
In urban Sub-Saharan Africa, the sanitation needs of the majority of the population are met by onsite sanitation technologies. In Kampala, Uganda, these technologies provide for the sanitation needs of 95% of the population, approximately 1.8 million people. The management of accumulated faecal sludge poses a huge challenge for the city. Currently, inadequate or unaffordable faecal sludge collection, transport and treatment are the reality for a large fraction of the population, resulting in the dumping of untreated faecal sludge into the environment, jeopardizing environmental and public health. This problem is intensified by the lack of appropriate management solutions for other urban waste streams, such as waste sludge from water and wastewater treatment.
Goal:
The goal of SEEK is to work towards making resource-recovery based solutions to waste management a reality, thereby providing new business opportunities, and increasing access to renewable energy and electricity while improving public and environmental health in urban areas through the provision of sustainable sanitation service chains.
Objectives:
Assess suitable waste streams for energy recovery.
Develop and pilot scalable cost-effective drying methods.
Contextualize innovative pelletizing and gasification technologies.
Assess environmental impact of pelletizing, gasification and the entire value chains.
Assess the market for the implementation of technologies and enduse of waste-derived products.
Identify business models, value and supply chains with potential implementers of technologies and users of endproducts.
Further scientific knowledge and build capacity through stakeholder participation and dissemination.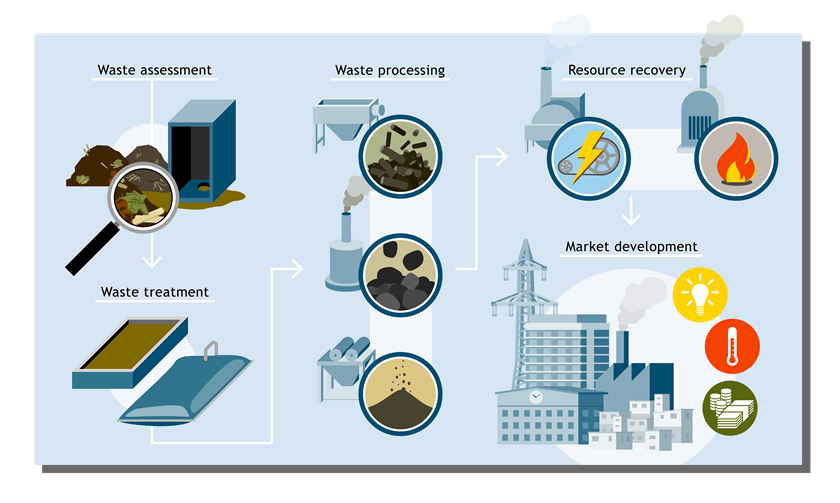 Publications:
Waste assessment
Suitable biowastes for energy recovery.

Byrne, A., Gold, M., Turyasiima, D., Getkate, W., Niwagaba, C., Babu, M., Maiteki, J., Orwiny, M., Strande, L. Sandec/Eawag (2015)

[710KB]
Pelletizing
Co-pelletizing of faecal sludge with different biowastes for gasification.

Englund, M., Turyasiima, D., Gold, M., Niwagaba, B., Studer, F., Strande L. Sandec/Eawag (2015)

[0.9MB]
Dewatering of faecal sludge using geotextiles. Ziebell, F., Gold, M., Matovu, J., Maiteki, J., Niwagaba, C., Strande, L. Sandec/Eawag (2016)
Carbonization
Stove fuel performance - Faecal sludge to carbonized briquettes.
Kiwana, D., Naluwagga, A. CREEC (2016)
Understanding biochars from faecal sludge and their potential applications.
Bleuler, M. Master thesis Zurich University of Applied Sciences (2016) (on demand).
Gasification
Gasification of faecal sludge and biowaste pellets in Kampala, Uganda.
Tukahirwa, S., Tschumi, S., Getkate, W. CREEC (2016)
Market development
Business models for faecal sludge treatment end products in Kampala, Uganda.
Nantambi S CREEC (2016)
Financial Analysis of Faecal Sludge Energy Recovery Scenarios in Kampala, Uganda.
Wolf, M.. Master thesis Aalborg University (2015) (on demand).