Department Environmental Chemistry
DEMEAU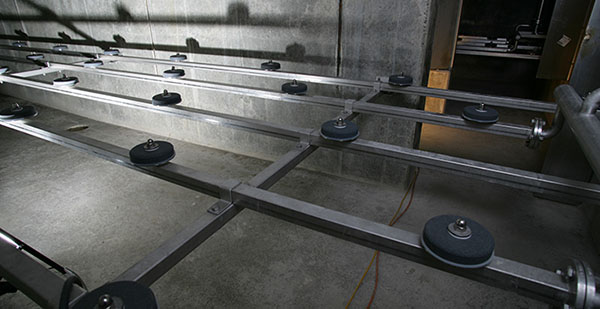 The Project Demeau (Demonstration of promising technologies to address emerging pollutants in water and wastewater) is a EU project within FP7 running from Sept. 2012 – August 2015. The overall objective of DEMEAU is to promote the uptake of knowledge, prototypes and practices from previous EU research enabling the water and wastewater sector to face emerging pollutants.
Eawag focuses on demonstrating the potential of ozonation for water and waste water application in full scale in a collaboration of the Departments of Environmental Chemistry, Process Engineering and Water Resources and Drinking Water as well as the Ecotox Center. Removal processes and the influence of the source water composition on the efficiency of eliminating micropollutants with ozone will be studied. Appropriate online control of the technologies to assure constant high water quality with minimal energy consumption is an important task to improve the long-term stability and robustness of the processes, a prerequisite for implementation. The up-scaling, controlling, and validation of ozonation will be demonstrated for waste water and drinking water treatment together with the wastewater treatment plant ARA Neugut (Dübendorf) and the waterworks of Zurich (WVZ).
Moreover, the removal processes in ozonation will be investigated in more details to close research gaps hampering the technology transfer to practice. The mitigation of transformation products from micropollutants by post-treatment will be studied and evaluated by theoretical concepts (including kinetics and mechanisms), chemical analysis and bioassays. The experiences and results will be used to develop a decision tool for the implementation of oxidation technologies based on a quantitative comparison of the different treatment technologies and on the framework requirements in different European regions.
Publications
Borowska, E.; Bourgin, M.; Hollender, J.; Kienle, C.; McArdell, C. S.; von Gunten, U. (2016)
Oxidation of cetirizine, fexofenadine and hydrochlorothiazide during ozonation: kinetics and formation of transformation products,
Water Research
, 94,
350
-362
,
doi:

10.1016/j.watres.2016.02.020
,
Institutional Repository
Bourgin, M.; von Gunten, U.; McArdell, C. S.; Hollender, J.; Hofman-Caris, R. (2015)
Compilation of kinetics and mechanisms for the oxidative transformation of organic substances
,
35 p
,
Institutional Repository
McArdell, C. S.; Bourgin, M.; von Gunten, U.; Hollender, J.; Kienle, C.; Hofman-Caris, R. (2015)
Decision basis for implementation of oxidation technologies
,
29 p
,
Institutional Repository
Duration
September 2012 – August 2015