Academic education
Interdisciplinary and practice-based teaching
Eawag supports university-level education through course instruction at the ETH Zurich, EPF Lausanne and national and international universities.
Undergraduate and doctoral students in the natural sciences, engineering and social sciences learn and research at Eawag in an interdisciplinary environment.
University-level course instruction is provided in close cooperation with the ETH Zurich, the EPF Lausanne, universities and universities of applied sciences and is strongly rooted in the Institute's own practice-based research.
Professors based at Eawag
Eawag researchers lecture in various subjects and supervise dissertations and doctoral theses. At the moment 132 staff members are actively engaged in higher education work. There are currently 10 full professors working at Eawag, while 15 researchers hold adjunct professorships, 3 researchers hold SNSF professorships and 3 are assistant professors.


Bachelor and Master thesis
On request, students may have their Bachelor and Master thesis supervised at Eawag. Those interested can obtain further information from their place of study or by contacting the research departments directly.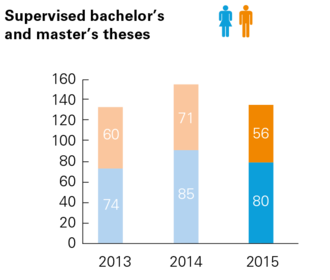 Doctorate
Eawag supports higher-education institutions in the education of doctoral students. Natural and social scientists and engineers have the opportunity to carry out research and prepare a thesis in an innovative environment. Eawag offers ideal conditions for PhD students: dedicated supervision, a modern infrastructure and an inspiring environment for aspiring scientists. Through close exchanges with other scientific disciplines, PhD students receive a comprehensive insight into aquatic research.
This programme involves close cooperation with the higher-education institutions where the PhD students are enrolled.