FLUX – New Eawag building for research and teaching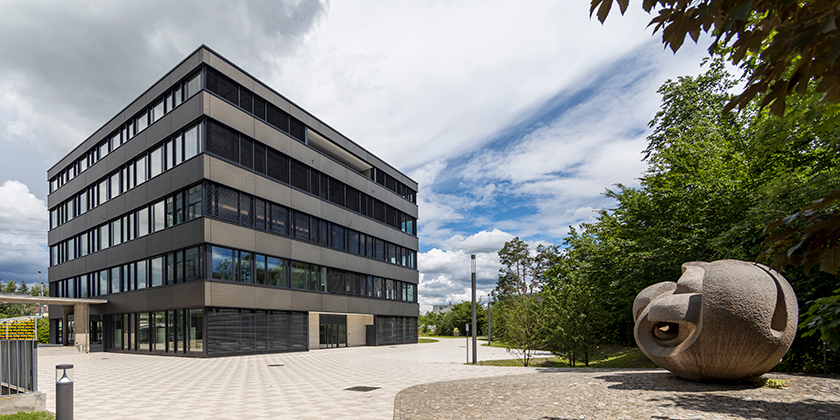 After two years of construction, Eawag's new multifunctional FLUX building in Dübendorf was completed in spring 2021.
Among other things, the new multifunctional building offers space for teaching, training laboratories and further education courses. Likewise, the departments Process Engineering, Sanitation, Water and Solid Waste for Development are located in the new building, and share special laboratories. The Ecotox Centre also has a place in the new building. With the new "Synthesis Centre" (SETS: "Socio Environmental Technological Systems"), researchers and guests work at the interfaces of science, policy and practice, and the aquatic research institute thus also spatially promotes the transfer of knowledge and technology to and from Eawag. In addition, there is a photo and video studio at FLUX, which enables recording for eLearning videos such as MOOCs, project videos, clips for social media or interviews. A covered passerelle connects the FLUX on the ground floor with the neighbouring office building, allowing easy exchange between employees. The new building will also free up urgently needed additional laboratory space in the Eawag laboratory building, which will remain unused.
Six floors, 40 rooms and a whole lot of technology
The building, designed by Halter AG with the architectural firm Fugazza Steinmann & Partner, includes a basement and five floors above ground on a floor area of around 30 by 31 metres. In accordance with the federal government's role model function, the latest technologies and concepts of sustainable construction were applied. Among other things, an innovative laboratory ventilation system is used, which achieves striking energy savings with decentralised combi recirculation air units. The building is also certified according to MINERGIE-ECO®.
Why was a new building necessary?
Where FLUX stands today, there used to be a teaching pavilion for ETH students until the start of 2019. But the building, originally planned as a temporary structure, had reached the end of its service life after almost 30 years of operation and did not comply with current energy and environmental requirements, nor did it meet today's requirements for a modern and safe teaching and research building.
In addition, there was the growing demand for space at Eawag, which in 2007 employed a total of 439 people, but in 2018 the number of employees had already risen to 492 - a good four-fifths of them in Dübendorf. Furthermore, a library for the four research institutes of the ETH Domain was established at the site, and in 2008 the Ecotox Centre was built. Eawag was also able to expand its cooperation with universities of applied sciences and universities and create workplaces for doctoral students. In addition, there are trainees, apprentices and interns at the ETH Zurich. As well as this, there are numerous academic guests at the site, who often spend several months working at Eawag and contribute to knowledge transfer and an improved network in research, teaching and consultation. "All this required an expansion and renewal of the existing infrastructure, as well as additional laboratories and office space for researchers, lecturers and learners and for our courses," says Rik Eggen, Deputy Director of Eawag, emphasising the need for the new building. "We are very pleased that, thanks to the FLUX, we will now be able to fulfil our mandate in a spatially secure manner in the future."
FLUX at a glance

Rooms for tertiary education: lectures, internships and field courses
Space for PEAK professional development courses
Training laboratories for vocational training in chemistry and biology, Training and Analytics laboratory (AuA)
Joint special laboratory for ENG and SANDEC departments
Ecotox Centre laboratories and offices
Synthesis Centre
Photo and video studio
Milestones
| | |
| --- | --- |
| 2015 | Call for tender |
| 2016 | Prequalification general contractors |
| 2016 - 2017 | General contractor appointment - phases 1 + 2 |
| 2018 | Building approval and project planning |
| 2019 | Demolition of the Pavilion, excavation and shell construction |
| 2020 | Internal fitting and commissioning |
| 2021 | Occupation as of 1 July |