Department Sanitation, Water and Solid Waste for Development
Black Soldier Fly Biowaste Processing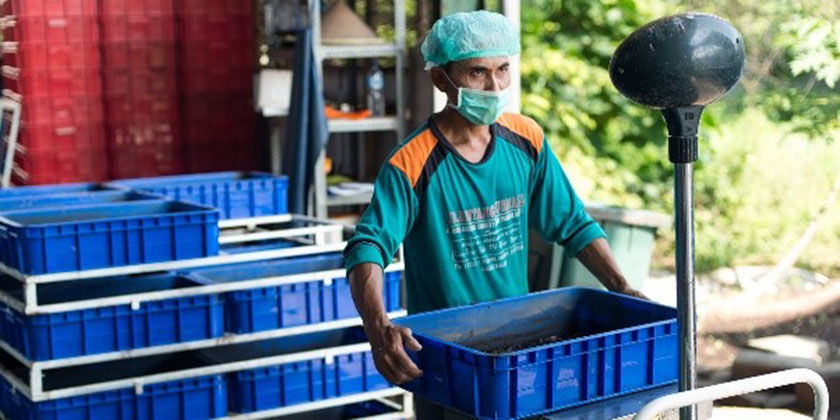 Many organic waste sources make an excellent feed substrate for the larvae of the black soldier fly (BSF), Hermetia illucens L. (Diptera: Stratiomyidae). Given the right circumstances, the larvae are able to reduce the waste material by 50-80% and convert up to 20% of the waste material into larval biomass within ±14 days. The grown larvae make an excellent protein source in animal feed and their sale can contribute to lower waste treatment cost and potential income opportunities from organic waste.
BSF projects
FORWARD (From ORganic WAste to Recycling for Development: An applied research project in Indonesia that developed a manually operated BSF site and is now assisting public and private partners on setting up their sites

BIWAP (Boosting Insect Waste Processing): Focuses on several distinct processing units to enhance effectivity and efficiently, both connected closely to cost which again influences financial viability of the facility.

SIBRE (Sustainability of Insect-Based Recycling Enterprises): Developing knowledge and practical tools required for small & medium enterprises to assess economic perspectives of using BSF for valorizing organic waste.
PhD Moritz Gold: explores decomposition by BSF larvae feedstock formulation for efficient animal feed production BSFL-microbial relationship to increase BSFL processing; and the effect of contaminated substrates on BSFL processing for safe animal feed production
PhD Daniela Peguero: explores physical and microbial pretreatment of substrates to enhance BSFL digestibility as well as risk factors when processing human feces with BSFL.
BSF research: Research at Sandec on Black Soldier Fly biowaste processing covers different themes:
Process engineering and application:
Studies the optimization of the processes relevant for efficient waste conversion by BSF larvae (e.g. conversion rates of different types of biowaste, survival rate of various life stages, uptake of heavy metals)
Publications
Black Soldier Fly Biowaste Processing. A Step-by-Step Guide – 2nd Edition. Dortmans B.M.A., Egger J., Diener S., Zurbrügg C. (2021)
Biowaste treatment with black soldier fly larvae: Increasing performance through the formulation of biowastes based on protein and carbohydrates. Moritz Gold, Cecille Marie Cassar,Christian Zurbrügg, Michael Kreuzer, Samy Boulos, Stefan Diener, Alexander Mathys. Waste Management
Pre-treatment of banana peel to improve composting by black soldier fly (Hermetia illucens (L.), Diptera: Stratiomyidae) larvae. Isibika, A.; Vinnerås, B.; Kibazohi, O.; Zurbrügg, C.; Lalander, C. (2019), Waste Management, 100, 151-160
Effects of feedstock on larval development and process efficiency in waste treatment with black soldier fly (Hermetia illucens). Lalander, C.; Diener, S.; Zurbrügg, C.; Vinnerås, B. (2019) Journal of Cleaner Production, 208, 211-219
Sustainability aspects:
Studies financial, social and environmental aspects of BSF processing and use of BSF products.
Publications
Valorising Biowaste Using BSF: A Cost Model and Market Assessment Establishing viable business models in the BSF industry.Bram Dortmans, Grégoire Virard, Early Antarest, Putu Putri Indira Sari, Christian Zurbrügg. Sandec News No. 20 (2019)
Black Soldier Fly biowaste treatment – Assessment of global warming potential.A. Mertenat, S. Diener, C. Zurbrügg (2018)
Opportunities and constrains for medium-scale organic waste treatment with fly larvae composting. International Waste Management and Landfill Symposium. Cagliari, ItalyS. Diener, C. Lalander, C. Zurbrügg, B. Vinneras (2015)