Department Sanitation, Water and Solid Waste for Development
Open-design NoMix toilets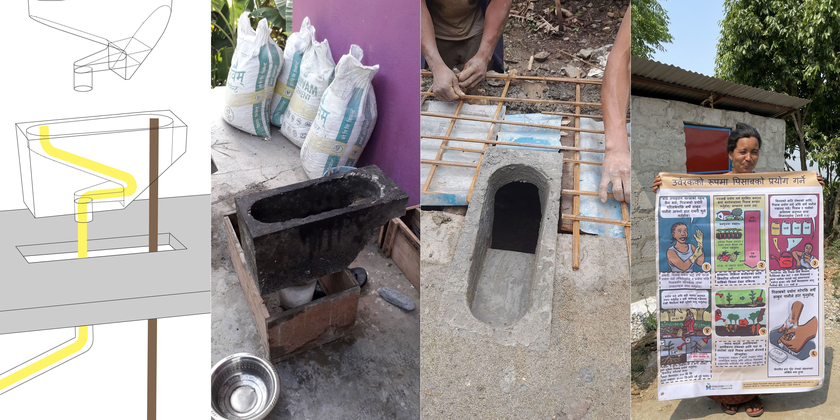 Field Testing of an Open-source Do-it-yourself Template to produce robust NoMix toilets locally
The EOOS NEXT Open Design Mould (ODM) allows to produce urine diversion squatting toilet pans locally using a do-it-yourself template, a metal sheet, and concrete. We have tested the ODM in Nepal resulting in additional innovations that will help to improve the design.
Background
Urine contains most of the nutrients that are required to produce our food. To produce fertiliser from urine, the urine has to be collected at the source. EOOS NEXT, a social industrial design enterprise from Vienna, has been investigating together with Eawag how to do this efficiently since more than 10 years. One of the outcomes is the design of the patented "Urine Trap" that allows to separate urine invisibly and effectively. The Urine Trap is currently pre-industralised in Laufen's ceramic wall hung flush toilet SAVE! awarded with the Design Prize Switzerland in 2021 (see also https://urinetrap.com/).
The SAVE! toilet is appealing to the users and shows good performance. But it is only affordable and accessible to a privileged part of the society which is connected to a sewer system.
Urine diversion toilets have a high potential in remote areas too, where sewers or vehicular emptying of toilets is not possible and where there is a demand for urine as fertilisers. To make the Urine Trap accessible and affordable for these contexts, EOOS NEXT has developed the EOOS NEXT Open Design Mould. The ODM allows to produce urine diversion squatting toilet pans locally using a do-it-yourself template, a metal sheet, and concrete. First, a metal mould is produced from which multiple pans can then be casted. The ODM received the Green Good Design Award. Our work involved looking deeper into the experiences of actors involved: are local artisans able to produce pans of sufficient quality? How can families integrate the pans in their toilet facilities? What about cost efficiency and user acceptance?
Proof of Concept in Nepal
To answer these questions Eawag, Helvetas Swiss Intercooperation and Nepali partner SEWA, an NGO working in the hilly region of the Chitwan district having previous experience with urine diversion, are collaborating with local manufacturers on ODM prototyping and testing in Nepal.
Currently, the toilets are in use and collected urine is directly applied for fertilizing the orange trees. Faeces are collected in the first of two faeces storage vaults which will be closed after six months and stored for six additional months before the faeces can be used as soil amendment (WHO 2006).
The final production costs per pan were around 55 Euros including the mould production and 10 pans to be produced per mould. This is approximatively five times the price of a normal ceramic pan in Nepal but could be brought down with higher production volume and more pans per mould. The construction of the double vault toilet was nearly double the price of the prevailing single pit toilet design; however this should be viewed alongside the advantages of the double vault system (less humidity and odours, possibility of safe reuse).
Upscaling
The innovations from the production process in Nepal are documented in a project report and in a technical note. The project also developed four posters for training families on using and applying UDDT products. All these materials are available upon request for replication.
EOOS NEXT is currently working on an improved design which we will then test in additional country sites.
Partnership
This project was made possible only through the involvement and contributions of local partners, especially Bal Mukund Kunwar from Helvetas Nepal and Sharendra Prakash Pokharel, director of the SEWA Nepal, a local NGO working with community development and urine diversion.
Project documents and links:
Links:
Dowloads:
From the piloting in Nepal: