Department Urban Water Management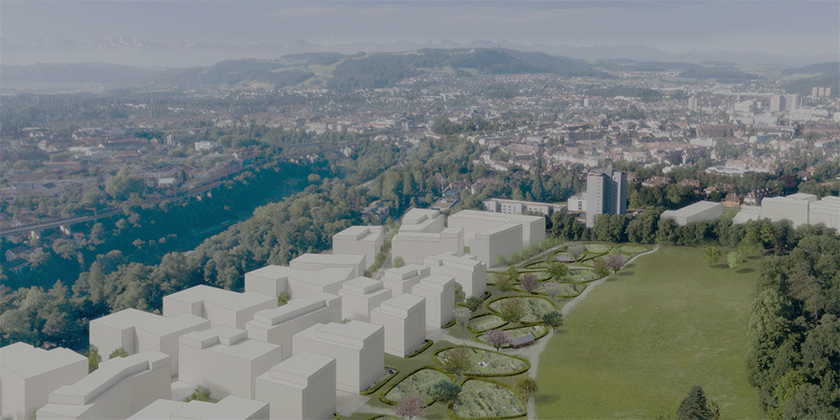 What is it about?
This project contributes to the Blue Green Biodiversity research initiative - an Eawag-WSL collaboration focusing on biodiversity at the interface of aquatic and terrestrial ecosystems.
This project will monitor the impact of urbanization and prepare for an urban living lab. In central Bern, a 20 ha greenfield site (Viererfeld/Mittelfeld) will be developed to house 3'000 people. This narrow window of opportunity to capture the 'pre-development' state before construction begins will yield rare data of scientific merit and immense value for our Blue Green Infrastructure/ Biodiversity (BGI/BGB) research. With an initial set of sensors we will capture baseline hydrological and microclimate conditions. Ultimately, we wish to establish an urban living lab for BGI/BGB research that leverages rich longitudinal measurements of this urban transformation. We are currently creating a consortium of researchers interested in the urban living lab idea, including scientists at Eawag and WSL, in the fields of biodiversity, noise & light pollution, urban soils, hydrogeology, and citizen science. Investments in this project will produce a unique and rare data set with its own scientific merits, of significant value to our BGI research and for publication.
About the Viererfeld/Mittelfeld development project
The neighborhood of Viererfeld/Mittelfeld is to offer a near-natural, well-connected living environment. High value is placed on the use of native and site-appropriate species. In addition, facades and green roofs are to be promoted and sealed surfaces are to be kept to a functional minimum. These blue-green infrastructure will be installed to limit the impact of urbanization and help restore the water and energy balance to a more natural state. A climate-adapted design should also ensure a high quality of life in the future. The ecological intentions can be seen, among other things, in the versatile planning of the roof landscapes. Both humans and insects will be able to use them. In addition, the roofs will be used as retention areas for rainwater, energy production and hot water. More about the neighborhood planning can be found here: City of Bern Viererfeld/Mittelfeld: Stadt Bern Viererfeld/Mittelfeld
BGI - Blue Green Infrastructure
Blue Green Infrastructure is a strategically planned network of natural and semi-natural areas that are designed and managed to provide a wide range of ecosystem services. A few examples of green elements are: Hedgerows, shrubs, and roof gardens. Some examples of blue elements are: ponds, pools, and man-made buffer ponds. BGI's are intended to limit the impacts of urbanization and help restore the water and energy balance to a more natural state. In the context of climate change (heavy rain events, heat waves, floodings etc.), BGI will become increasingly important in urban planning.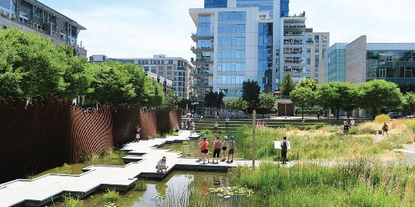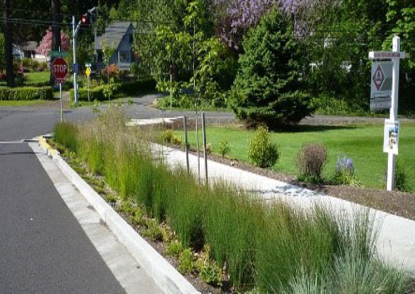 How do we get there?
Eawag, in collaboration with WSL, is creating an Urban Living Lab in Bern. An Urban Living Lab is a public space that allows a wide range of stakeholders and citizens to work together to develop innovative urban services in a real-world setting. This will also provide an infrastructure for other research groups to participate with their own monitoring projects. Participants include scientists from the fields of biodiversity, noise and light pollution, urban soils, hydrogeology and citizen science. The project life cycle is characterized by four stages:
Establishing a baseline before urbanization: Installing a sensor network to establish a baseline data set before urbanization begins. The data will focus on water and energy budget monitoring.
Tracking of construction-related changes: Record initial environmental changes during the urbanization phase and determine the impact of BGI on water runoff, flooding, and environmental heat.
Post-construction assessment: Post construction analysis to determine whether BGI can reduce the impacts of urbanization of a new residential area to pre-urbanization levels.
Project completion: End of active research phase.
Establishing the baseline situation before urbanization
The first phase which is expected to last about 2 years consists of four main tasks:
Building baseline models
Sensor network design and refinement
Installation of sensors and hardware
Data and software integration
We will rely heavily on technology and experience from the Urban Water Observatory (UWO) in Fehraltorf. For most sensors, we will use the low-power data transmission protocol LoRaWAN.
Figure 3 shows the weather station already installed in the Viererfeld.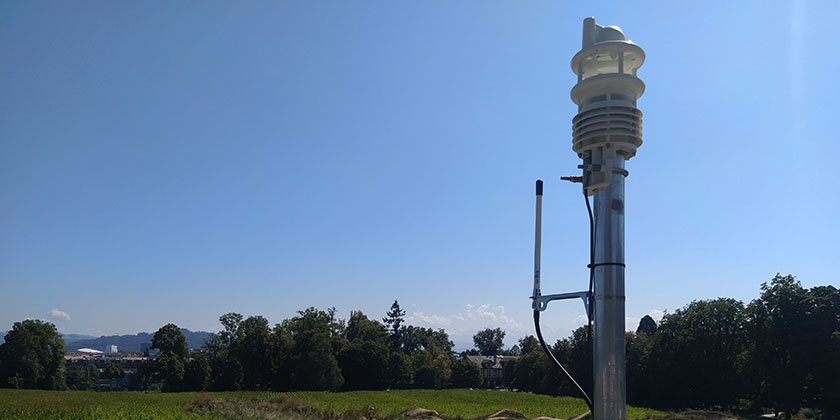 What are the advantages of the project?
The Urban Living Lab Bern will serve as a showcase project for Blue-Green climate change adaptation measures in Switzerland. It will bring together different interdisciplinary research projects on one site. This creates the unique possibility of a holistic approach to BGI's, which is currently still lacking in research. Until now it was hard to quantify the impact of BGI's due to missing baseline data. This project will change this! We have the great opportunity to observe the energy and water balance during the whole life cycle of the urbanization project. Investment in this project will produce a unique and rare dataset with its own scientific merits that will be of great value to our BGI research and publications.