Department Aquatic Ecology
CyanoArchive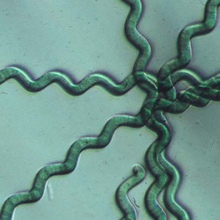 The goal of this research project is to reconstruct:
the history of cyanobacterial blooms
the occurrence of toxic genes from lake sediments
the effects of cyanobacteria on locally adapted zooplankton
in the Danube Delta. Knowledge about this history is crucial to predict the risk for harmful cyanobacterial blooms in the context of environmental change and their consequences for lake food webs.
The formerly hyper-eutrophied lake Greifensee, Switzerland, is an ideal study site to develop the method to reconstruct cyanobacterial blooms from sediment cores: historical data are available for zoo- and phytoplankton and for the population structure of the waterflea Daphnia. This is a key organism in aquatic food webs as it eats the algae and serves as fish food.

Extensive field data will be collected from lake complexes in the Romanian part of the Danube Delta, to assess the occurrence of harmful cyanobacterial blooms. Since detailed long-term monitoring data are missing from those lakes, from sediment cores we will:
reconstruct occurrence and structure of cyanobacterial blooms by PCR
evaluate the presence of toxic genes by PCR
resurrect Daphnia from resting eggs
test pre- and post-eutrophication Daphnia populations for local adaptation to cyanobacterial blooms in laboratory experiments.