Department Sanitation, Water and Solid Waste for Development
Water, Sanitation and Hygiene in Emergencies
Emergencies, be they natural or man-made disasters, and protracted crises have increased worldwide in the recent past. The provision of adequate WASH services at every step of a crisis, from the first emergency to rehabilitation and long-term development, is crucial in order to protect human and environmental health. The Strategic Environmental Sanitation Planning group at Sandec is leading various efforts to support the humanitarian sector in terms of emergency WASH. A Compendium of Sanitation Technologies in Emergencies was published in partnership with the German WASH Network and Swiss Humanitarian Aid and a Massive Open Online Course wash launched in collaboration with the International Committee of the Red Cross. A PhD thesis, which will deal with water and environmental infrastructure services for urban refugees is also underway. Sandec provides regular backstopping services to the Swiss Humanitarian Aid (SHA) in terms of capacity building, advisory services and innovation.
NEW! The Compendium of Sanitation Technologies in Emergencies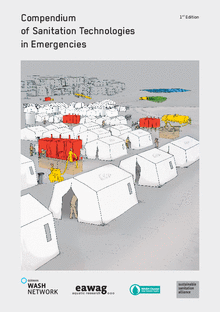 The Compendium of Sanitation Technologies in Emergencies extends the scope of Sandec's Compendium of Sanitation Systems and Technologies to the field of humanitarian aid. Not only does it cover a wider array of technologies, applicable to the different phases of an emergency, but it also provides an overview of the key cross-cutting issues influencing technology selection and supporting implementation in these contexts. It is a comprehensive, structured and user-friendly manual and planning guide which supports and enables decision making by providing the necessary framework for developing a sanitation system design. It compiles a wide range of information on tried and tested technologies in a single document and gives a systematic overview of existing and emerging sanitation technologies. In addition, it gives concise information on key decision criteria for each technology, facilitating the combination of technologies to come up with full sanitation system solutions, all linked to relevant cross-cutting issues.
Massive Open Online Course (MOOC)

The International Committee of the Red Cross and Eawag-Sandec have joined forces to develop a MOOC, entitled "Introduction to Public Health Engineering in Humanitarian Contexts". The 5-week course has been launched in November 2017 in English with French and Spanish subtitles. The course can be attended any time on Coursera and Youtube for free.
PhD "Advocating for WASH equity for refugees in transitional urban settings"
Cities are the most common destination for refugees. In low-and middle-income cities, refugees tend to settle together with other vulnerable collectives in arrival city areas or slums. Uncertainty and transience are the main characteristics of these informal urban settings. WASH provision in such transitional settings becomes a challenge to solve in a sustainable way. International aid agencies such as UNHCR have the mandate of protecting refugees and guaranteeing their rights, but there are no clear tools for WASH intervention in such complex and mixed settings. This PhD research aims to understand how are these transitional settings, what are their WASH blockages and why are they produced. Lastly, this research also aims to create a design guidelines toolkit to facilitate WASH provision interventions for urban refugees in transitional settings and to advocate for equity in WASH provision among refugees and their co-dwellers.
» Contact Marta Fernández for more details.