Department Fish Ecology and Evolution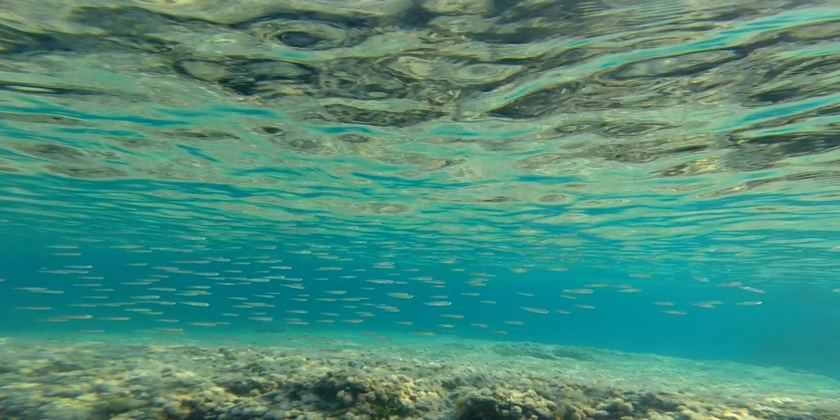 Fish Ecology & Evolution (FishEc)
We study ecology, evolution and biodiversity of fishes and other aquatic organisms. We are interested in the mechanisms that drive the origins, the maintenance and the loss of species, genetic and functional diversity.
News
March 19, 2019
A Combinatorial View on Speciation and Adaptive Radiation
Speciation is often thought of as a slow process due to the waiting times for mutations that cause incompatibilities, and permit ecological differentiation or assortative mating. Cases of rapid speciation and particularly cases of rapid adaptive radiation into multiple sympatric species have remained somewhat mysterious. We review recent findings from speciation genomics that reveal an emerging commonality among such cases: reassembly of old genetic variation into new combinations facilitating rapid speciation and adaptive radiation. The polymorphisms in old variants frequently originated from hybridization at some point in the past. We discuss why old variants are particularly good fuel for rapid speciation, and hypothesize that variation in access to such old variants might contribute to the large variation in speciation rates observed in nature.
News
March 5, 2019
Ecological and Evolutionary Processes Shaping Viral Genetic Diversity
The contemporary genomic diversity of viruses is a result of the continuous and dynamic interaction of past ecological and evolutionary processes. Thus, genome sequences of viruses can be a valuable source of information about these processes. In this review, we first describe the relevant processes shaping viral genomic variation, with a focus on the role of host–virus coevolution and its potential to give rise to eco-evolutionary feedback loops. We further give a brief overview of available methodology designed to extract information about these processes from genomic data. Short generation times and small genomes make viruses ideal model systems to study the joint effect of complex coevolutionary and eco-evolutionary interactions on genetic evolution. This complexity, together with the diverse array of lifetime and reproductive strategies in viruses ask for extensions of existing inference methods, for example by integrating multiple information sources. Such integration can broaden the applicability of genetic inference methods and thus further improve our understanding of the role viruses play in biological communities.
News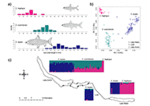 December 20, 2018
Genomic insights into the vulnerability of sympatric whitefish species flocks
This study provides a genome-scale (16,173 RAD loci) analysis of Alpine whitefish from lakes Walen and Zurich. Philine and Ole demonstrated the feasibility of dense marker sets to unambiguously distinguish sympatric whitefish species. This ability then allowed them to show that in each of the two lakes the population of a different, but ecologically similar, whitefish species declined following a recent period of eutrophication. They also detected genomic signatures consistent with hybridisation that are more pronounced in the more severely impacted lake, Lake Zurich. Finally, four genomic loci were identified that provide evidence of parallel divergent adaptation between the shallow benthic species and the two different more profundal species. The genomic analysis indicates the action of divergent natural selection between sympatric whitefish species in pre‐alpine lakes and reveals the vulnerability of these species to anthropogenic alterations of the environment.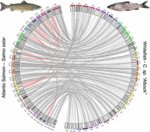 December 20, 2018
A European Whitefish Linkage Map and Its Implications for Understanding Genome-Wide Synteny Between Salmonids Following Whole Genome Duplication
Rishi and Philine investigate the genetic basis of the spectacular whitefish radiation across Swiss lakes. To achieve that new genetic resources are essential. One such resource is the linkage map that they created and now published in G3. With this map, they identify how the structure of the whitefish genome might differ from that of other salmonid species by comparing it with the Atlantic Salmon genome. The linkage map suggests that whitefish and atlantic salmon have a very different genome structure an the whitefish genome is more similar to that of other salmonid species including rainbow trout. They further identified regions which have a unique structure in whitefish which they aim to investigate further in the future.
Research Projects