Department Sanitation, Water and Solid Waste for Development
Establishing a Drinking Water Security Strategy for Mid-Western Nepal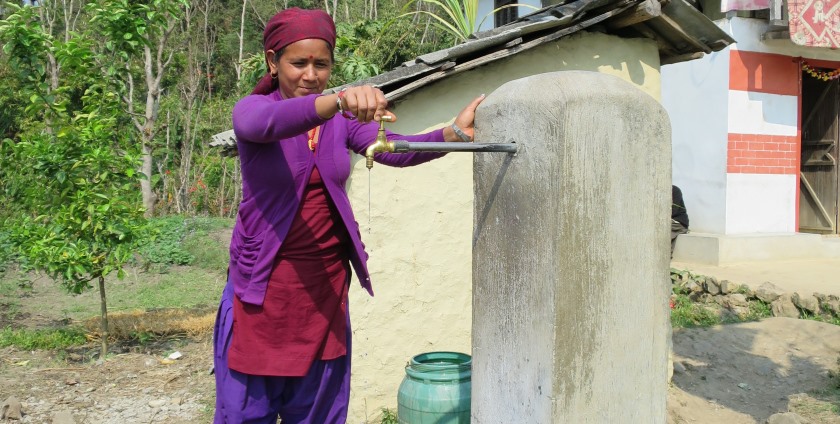 In rural Nepal, 92% of households[i] have access to an improved drinking water source. Yet assessments of microbial contamination in Mid-Western Nepal shows that 70 - 80% of taps are not delivering water that is safe for drinking. Achieving Sustainable Development Goal Target 6.1 (SDG 6.1), to deliver "universal and equitable access to safe and affordable drinking water for all," is especially challenging for remote rural settings facing multiple obstacles. These include unreliable supply chains for sampling materials, the high cost of laboratory equipment, and unreliable or non-existent access to electricity.
SANDEC's Water Supply and Treatment (WS+T) Group is collaborating with the Safe Water Promotion and HELVETAS Swiss Intercooperation to improve access to safe drinking water in remote rural areas of Mid-Western Nepal. Within HELVETAS' Water Resource Management Program (WARM-P), this interdisciplinary research focuses on three general areas:
Understanding system vulnerabilities explaining microbial contamination
Developing solutions for effective water quality treatment and safe handling, and
Implementing a sustainable and robust monitoring system linked to a risk-based water safety strategy.
Eawag's field studies have revealed inconsistent water quality across the piped schemes, high rates of recontamination of stored drinking water, and low perceived risk perception among water users. Spatial and temporal dynamics of water quality also revealed inadequate protection of spring sources supplying the system.
The project duration is 2017-2019, Its focus is to install solar-powered field laboratories across the WARM-P service region and to train local technicians to monitor and mitigate drinking water supplies. This project is supported by the Swiss Agency for Development and Cooperation (SDC) and a catalyst grant from the REACH: Water Security for the Poor programme.
[i] WHO/UNICEF JMP, Nepal: estimates on the use of water sources & sanitation facilities (1980 - 2015)