Department Environmental Social Sciences
Best paper Award for ESS publication (July 2019)
Judit Lienert, group leader in the ESS department, has been awarded the "Best EJOR Review Paper" prize together with Mika Marttunen and Valerie Belton at the EURO Conference in Dublin end of June.
Mika Marttunen worked as a researcher and Valerie Belton as an academic guest at Eawag. Together with Judit Lienert they received an award for their review "Structuring problems for Multi-Criteria Decision Analysis in practice: A literature review of method combinations", which was published in 2017 in the "European Journal of Operational Research". This is one of the best journals in this field.
In this literature review, they have obtained a systematic overview of various problem structuring methods that can be used in individual phases of a "multi-criteria decision analysis". They present the problem structuring methods, show how the individual methods can be combined with multi-criteria decision analysis and discuss possible advantages and disadvantages of this combination. According to Judit Lienert, this overview with references to further literature could be very useful for other Eawag researchers who apply multi-criteria decision analysis - or who simply want to better structure problems.
First stakeholder workshop in Niger, West Africa in project FANFAR (Oct 2018)
Flooding is a rapidly growing concern in West Africa, projected to increase with climate change. There is a great need for reliable access to operational flood forecasts and alerts produced by a robust information and communication technology (ICT) system adapted to regional conditions and operated by capable West African institutions. The aim of the project FANFAR is to reinforce the cooperation between West African and European hydrologists, ICT experts, decision analysts, and end-user communities.
The first stakeholder workshop in FANFAR was successfully carried out in Niamey, Niger, from 16. – 20. September 2018. Around 40 decision-makers and stakeholders from 15 West African countries participated. They are responsible for producing and managing flood forecasts, flood alerts, or rescue services. The workshop was organized by one of the West African partners AGRHYMET, together with the Swedish project coordinator SMHI. The decision analysts from the ESS department, Francisco Silva Pinto, Alice Aubert, and Judit Lienert, were in charge of different interventions, aimed at guiding through a structured decision-making process and at better understanding the needs, aims, and daily realities of the participants.
We were highly impressed by the level of engagement of the participants, their aim to improve the conditions in their countries, and their friendliness. We greatly acknowledge that they shared valuable local knowledge on the diverse situations in West Africa with us. Many lively interactions and discussions took place. The workshop is an excellent starting point for improving the technical flood forecast and alert system in such a way that it is better adapted to user needs.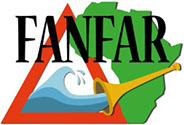 Successful international workshop: "Non –grid solutions for the future of urban water management?" (March 2018)
From 14 to 17 March 2018, a group of 34 leading experts from academia and practice met at the "Centro Congressi Stefano Franscini" at Monte Verità in Ascona to discuss the future of urban water management (UWM). The workshop, facilitated by scholars from the strategic research program Wings at Eawag, was aimed at discussing the possibilities of transitioning toward a new paradigm in UWM which is based on adaptive, flexible and robust 'non-grid' water and sanitation solutions.
International Workshop: Non-grid solutions for the future of urban water management? (March 14th - 17th, 2018)
The Wings Team organizes an international workshop: "Non-grid solutions for the future of urban water management?" at the Congressi Stefano Franscini, the meeting platform of ETHZ.
Christian Binz receives Best Paper Award (June 2017)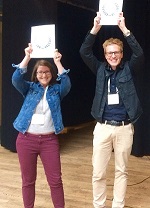 12. eco.natur Conference in Basel (March 31, 2017)
The 12th eco.natur Conference will take place on March 31, 2017 in Basel and focusses on the topic of Switzerland as a "water castle". Janet Hering represents eawag as one of the keynote speakers of the event. Sabine Hoffman, Simon Maag and Manuel Fischer organize workshops on the swiss water sector. The event will host up to 800 participants and give the opportunity to build networks and deepen knowledge for future project.
Manuel Fischer successfully passes habilitation exam (February, 2017)
ESS scientist Manuel Fischer has successfully passed his habilitation exam at the University of Bern (Faculty of Economic and Social Sciences). The title of his habilitation thesis is "Collaboration among political actors, institutions, and outputs", Manuel's oral presentation dealt with the issue of "(Mis)perceptions of political actors".
4th Water Research Conference: The Role of Water Technology Innovation in the Blue Economy (10. - 13. September 2017)
This international water conference, co-chaired by the editors in chief of the Elsevier journals Water Research and Water Resources and Economics and endorsed by the International Water Association (IWA), aims to highlight, discuss and advance state-of-the-art thinking and research to support the transition towards a Blue Economy, in particular the role of water science and technology innovation and the necessary institutional-economic enabling environment to foster sustainable behavioral change in current water use and depletion.
The conference solicits disciplinary and interdisciplinary paper presentations on the relevant technological, economic, social and governance dimensions underlying technology adoption and behavioral change towards the Blue Economy, in particular in urban and rural water systems. The 13th IWREC Meeting will be hosted in association with The Water Institute, University of Waterloo, as part of the 4th Water Research Conference.
Sanitation services at the BoP in the urban settlements of Haiti (31 January 2017)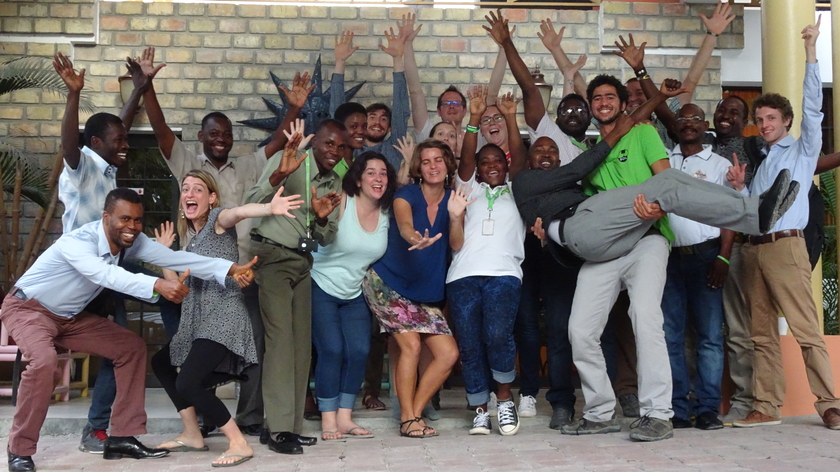 On January 31st to February 2nd 2017, Grégoire Virard and Heiko Gebauer from The Business Innovation Group and SOIL (Sustainable Organic Integrated Livelihood www.oursoil.org) hold a workshop in Haiti on SOIL's vision for 2022. SOIL provides sanitation in Haiti using CBS (Container-Based Sanitation) and EcoSan technologies. The organization runs waste treatment facilities, a mobile toilet service for events and construction sites, and a household toilet service for the urban areas of Port-au-Prince and Cap-Haitian. SOIL has just reached 1'000 clients, mostly at the BoP (Base of the Pyramid). The workshop covered strategic development and the process of scaling-up. This resulted in a roadmap for the next five years and an action list for SOIL's key activities. These results will allow SOIL to convert their big dreams of scaling up their sanitation services into actionable steps.
Official "Safe Resource Recovery and Reuse (RRR): Phase 2" Project launch in Lima, Peru (24 January 2017)
Up to 88 representatives from the national government, local authorities, start-ups, private and public companies, NGOs, investment funds, and academic institutions participated in the official launch event for the second phase of the "Safe Resource Recovery and Reuse (RRR)" Project in Lima, Peru. The day covered some of the political and technical key aspects to the implementation of safe RRR businesses promoting cost recovery in Lima's sanitation systems by turning waste streams into valuable resource streams. In the morning, a panel discussion between key political actors gave participants the opportunity to learn more about the challenges that come with the institutional reforms needed to enable public and private entrepreneurs to turn waste recovery into a safe and environmentally friendly business. In the afternoon, a workshop introduced participants to the project's scope and it's approach to overcome technical challenges of RRR business model innovation. The workshop's lively discussions resulted in valuable lessons learned for both participants and the project team. Participants are now being invited to subscribe to an extended coaching program were they will develop and test their ideas supported by experts of the RRR project team.
More information
Information on the SDC Website
For more information please contact: heiko.gebauer(at)eawag.ch; gregoire.virard(at)eawag.ch
News archive
Ulrike Feldmann receives Student Award from Bauhaus-University Weimar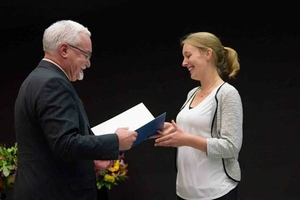 We congratulate Ulrike Feldmann, who on 12 October 2016 received the students award of the Bauhaus-Universität Weimar for her outstanding master thesis "Ökologische Analyse eines integrierten Konzeptes zum Wasser- und Energierecycling im Modellgebiet Lünen sowie Rückschlüsse für die praktische Umsetzung". The award was handed over by the rector of the Bauhaus University Prof. Dr.-Ing. Karl Beucke (see picture).
International workshop on Agent Based Modeling and Discrete Choice Experiments (March 10, 2016)
The Environmental Economics group in the department of Environmental Social Sciences (ESS) at Eawag organized a 1-day expert workshop on March 10 about agent based modelling (ABM) and social choice experiments. The workshop was organized as part of the SNF project on the economic valuation of flood risk. The main objective of the workshop was to exchange knowledge and experiences in applying ABM and social surveys, and choice experiments in particular. More information about the workshop, including the workshop proceedings are available from Roy Brouwer.
Florence Metz wins the "Dance your PhD Contest 2015" (24 November 2015)
Florenz Metz wins the annual "Dance your PhD Contest" with her very creative and entertaining video that explains her PhD project through interpretive dance. Congratulations!
Karin Ingold gives an Interview for the swiss Radio SRF (30 October 2015)
Karin Ingold has been interviewed by the swiss Radio SRF regarding the vote on the second Gotthard tunnel in the programme News Aktuell (German).
News Report: "Immer wieder der Gotthard"
Eawag Event: Discovery Day – Making Water Kiosks More Successful (22 September 2015)
27 Start-ups, researchers, NGOs, technology developers, and funders came together at Eawag on September 22 to exchange experiences and gain insight into how to implement and operate water kiosks more successfully. The day covered a variety of topics such as current challenges, behavior change, services, and how to increase the number of water kiosks. There was a mix of presentations and group work sessions, which allowed Eawag researchers to share their knowledge and provided the participants with opportunities to develop ideas for new solutions. The workshop provoked interesting discussions and led participants to examine challenges from new perspectives. Participants can now test the ideas developed in the workshop within their organizations. If you are interested in the workshop results, please contact heiko.gebauer@cluttereawag.ch.
Book contribution by Karin Ingold (August 2015)
Karin Ingold and Isabelle Stadelmann-Steffen have contributed to the edited book "Wahlen und Wählerschaft in der Schweiz".
More (German)
Heiko Gebauer receives the Emerald Citations of Excellence award (6 July 2015)
Heiko Gebauer's and Christian Kowalkowski's article on "Customer-focused and service-focused orientation in organizational structures", in the Journal of Business and Industrial Marketing, 2012) has been selected as a winning paper in the prestigious Emerald Citations of Excellence for 2015. You can see full details here:
Eawag Event: Serving base-of-the-pyramid markets & customers: From pilot to scale-up (July 2, 2015)
Around 60 visitors participated in the "Serving-the-base-of-the-pyramid markets & customers: from pilot to scale-up" event that took place on the 2nd of July, 2015 at the Eawag in Dübendorf. In the morning, participants were given the opportunity to learn from insights presented by practitioners and experts working in low-income sanitation and water markets around the world. Heiko Gebauer, in his speech, illustrated the need for companies to protect BoP ideas from their research and development routines and how firms should consider tapping into higher income segments instead of exclusively focusing on low-income markets.
The keynote was held by Paul Polak, serial social entrepreneur and co-author of The Business Solution to Poverty. He highlighted the need to enter into a direct dialogue with poor customers before designing BoP products and services. Polak identified the outlook of breaking even within the first year of implementation and achieving economies of scale as determining characteristics of successful BoP ventures.
In her presentation, Naomi Rosenthal from the South Pole Group showed how carbon credit markets can help to attract investments to set up decentralized water decontamination systems in poor rural areas. Renauld de Watteville explained how rural water kiosks evolved into veritable shopping malls over time with the engagement of his company Swiss Fresh Water in Senegal. Jessica Altenburger from x-runner Venture GmBH illustrated how social mechanisms within poor Peruvian communities influence consumption patterns of residents and affect their ability to invest into safe sanitation solutions. Urs Heierli from msd consulting/Antenna Technologies Foundation argued for strong partnerships between companies, governments and NGOs but warned from potential downsides of subsidizing water purification systems.
In the afternoon, participants got a chance to discuss and deepen their knowledge in workshops which covered diverse topics such as customer needs and preferences, marketing and sales approaches, supply chain management, scaling-up strategies, tools for assessing applicability of technologies, capacity building for business planning and development, or financing. Feedbacks on the event have been very positive overall and participants described the day as very instructive and as a good opportunity to network with potential partners.
The event was co-organized by Swiss Water Partnership, Swiss Bluetech Bridge, and the Eawag (Heiko Gebauer, Caroline Saul, Simon Joncourt).
Review of 'Service Business Development' in Production Planning & Control
The book "Service Business Development: Strategies for Value Creation in Manufacturing Firms" authored by Thomas Fischer, Heiko Gebauer & Elgar Fleisch has received a review in journal Production Planning & Control. The review highlights the contribution of the book to the current discussion on how companies can successfully extend the service business.
Professorship for Bernhard Truffer
Bernhard Truffer, Head of the Department of Environmental Social Sciences, was appointed Professor of "Geography of Transitions in Urban Infrastructures" at the Faculty for Geosciences in the University of Utrecht at the beginning of August 2014. The professorship is connected to a part-time position in Utrecht. At the same time, he will continue to work at Eawag as researcher and head of department. Bernard Truffer's research interests are in technological innovation systems and transition processes, particularly with regard to infrastructure planning. Bernhard's research work has been recognised many times by international panels, and he recently received the IAMOT Research Publication Award for his numerous publications in the field of technology management.
Best Paper of an Early Career Scholar
Philip Leifeld has won the Award for the Best Paper of an Early Career Scholar at the 1st European Conference on Social Networks (EUSN) in Barcelona for his work on "National Parliamentary Coordination after Lisbon: A Network Approach" (joint work with Thomas Malang).
New book
The book "Service Business Development: Strategies for Value Creation in Manufacturing Firms" authored by Thomas Fischer, Heiko Gebauer and Elgar Fleisch has been now published as a paperback. (ISBN 978-1-107-65207-1)
1st prize of the Swiss Association for Applied Geography
Sven Eggimann wins the first prize of the Swiss Association for Applied Geography for his master thesis "Potential for a sustainability transition of decentralized wastewater systems on the level of urban blocks". The thesis was convincing in terms of its great practical orientation and the used innovative approach.
In his work the market potential of on-site treatment systems are estimated on a spatially explicit scale with help of geographical information systems (GIS). With help of the developed methodology the relationship between the Swiss settlement structures and wastewater infrastructure costs are examined. The results show that from an economical point of view the marginal existence of decentralized wastewater systems not justifiable.
The master thesis was carried out at Eawag (ESS and SWW department) and was supervised in collaboration with the Department of Geography of the University of Zürich.
Social Impact Award
Javier Reynoso and Heiko Gebauer have received the social impact award from the Journal of Service Management. The article "An agenda for service research at the base of the pyramid" was rewarded for its important social contribution to the service research community. The article develops an agenda for service research in low-income countries.
Javier Reynoso (EGADE Business School, Monterrey Institute of Technology, Monterrey, Mexico)