Department Environmental Social Sciences
Water, sanitation and hygiene interventions for cholera prevention and control in the Lake Chad Basin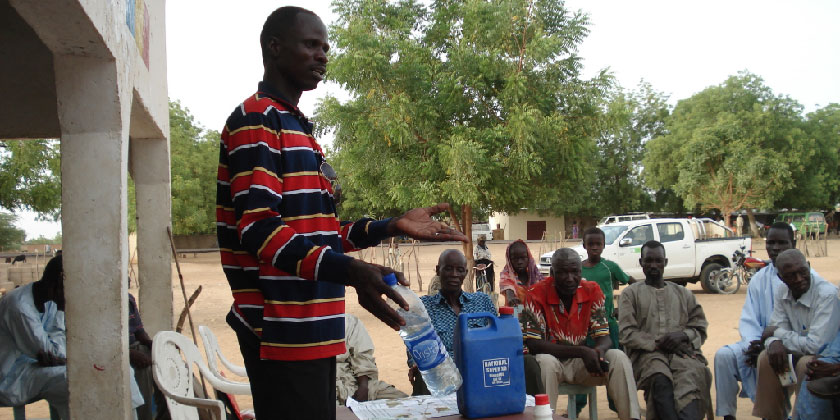 Project description
Household water treatment and safe storage (HWTS) practices are the most promising instruments to increase water quality at the point of use and significant reductions of diarrheal prevalence can be expected from their consistent usage. This projects aims to implement and evaluate community-based cholera prevention activities, based on data-driven intervention with a particular focus on household water treatment and safe storage. The geographic focus will be on communities living in the Lake Chad Basin. Based on the findings, practical tools for adoption by governments and public health practitioners are planned in collaboration with WHO.

Context
Globally, cholera is on the rise, with an estimated 3–5 million cholera cases and 100 000–120 000 deaths are reported each year (WHO, 2012). The recent increase in cholera is directly linked to the ever-increasing number of vulnerable people living in unsanitary conditions without access to safe drinking-water and adequate sanitation and hygiene. The reactionary approach of fighting cholera outbreaks through establishing short-term treatment centers and providing curative care has failed to reduce the mortality and morbidity. Effectively reducing cholera and diarrheal diseases in a sustainable way will require a strong focus on long-term preventative interventions, including facilitating access to safe drinking-water, sanitation and hygiene. Linking delivery of prevention efforts with health programs is increasingly recognized as a means to target the most vulnerable groups (i.e. nomadic populations, children and young adults) and maximize synergistic effects with other related conditions of ill-health (i.e. malnutrition).

Objectives
The overall aim of the project is to test and put into place a framework for improving water, sanitation and hygiene in order to effectively and sustainably prevent cholera cases. Specific objectives include:
deliver a multi-pronged water, sanitation and hygiene approach to cholera control that integrates community and household-based prevention activities;
development of behavior change interventions based on evidence from baseline survey targeting identified psychological factors to address; and
monitoring and evaluation of the effectiveness of the multi-pronged effort.

Activities
Step 1 & 2: Identify, measure, and determine behavioral factors of handwashing and drinking water chlorination:
A baseline survey on psychological determinants of drinking water chlorination and handwashing practices was conducted in a sample of 1000 households in Nov. – Dec. 2013.
The most important behavioral factors were identified to be health knowledge, social and personal norms, as well as confidence in one's own abilities. In addition, a lack of handwashing facilities was observed.

Step 3: Select behavior change techniques (BCTs) and design behavior change strategies to promote drinking water chlorination and building handwashing stations:
A combination of BCTs were selected targeting the identified key determinants and then combined into a promotion strategy. BCTs included informing about and assess costs and benefits, informing about others' behavior and others' approval and prompting public commitment as well as providing instruction and infrastructure.

Step 4: Implement and evaluate behavior change strategies:
The implementation of designed strategies was carried out by local health staff volunteers who received extensive training and materials necessary. Distinct public session on handwashing and drinking water treatment were organized Mai – Sept. 2015 and Nov. 2015 – Jan. 2016 2016 in intervention and control sites respectively.
Related Publications
Lilje, J.; Kessely, H.; Mosler, H.-J. (2015)
Factors determining water treatment behavior for the prevention of cholera in Chad,
American Journal of Tropical Medicine and Hygiene
, 93(1),
57
-65
,
doi:

10.4269/ajtmh.14-0613
,
Institutional Repository