Department Process Engineering
Water Hub within NEST

The Water Hub is Eawag's contribution to NEST, a research platform, which allows researchers and industrial partners to test new building technologies under realistic conditions. It is an experimental site, where Eawag researchers can develop and demonstrate technologies for the treatment of separated wastewater streams, i.e. urine, greywater, and blackwater. Separating wastewater streams facilitates the recycling of resources from the wastewater, similar to the result of waste separation into metal, glass and plastic. The Water Hub takes the concept of source separation to a higher level.The project team is focusing on three key areas: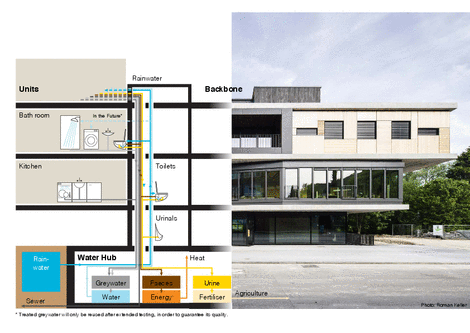 Urine: NEST recycles nutrients and produces its own fertilizer "Aurin"
Greywater: treated greywater from kitchens and bathrooms will be tested for reuse
Faeces: pressed and dried faecal sludge will be used as biofuel
Based on the expertise on resource recovery from wastewater, the Eawag spin-off Vuna Ltd was created .
Using not flushing: nutrients in urine
The project team has installed a urine treatment reactor in NEST with the goal to support the commercialisation of urine-derived fertilizer, one of the results of the VUNA program. The NEST reactor setup is based on the existing VUNA Complete Nutrient Recovery Pilot Plant that is located in Forum Chriesbach Dübendorf. The team is also working on optimising the overall urine treatment process with respect to energy consumption, financial costs, maintenance, and process stability through the use of a computer model.


Treatment and use of greywater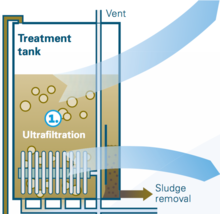 Treatment and use of greywater has the potential to reduce fresh water consumption by at least 50%, if the treated water quality is sufficient not only for toilet flushing, but also for washing, cleaning, and irrigation. Greywater is a reliable local source of water in an urban setting. In the Water Hub, there is a new greywater treatment process: gravity driven membrane filtration combined with biochemical post-treatment. This advanced treatment is linked with online monitoring of the water quality in the future greywater distribution system. As soon as the water quality has passed the stringent testing, the cleaned greywater will be used for washing and showering, but not for drinking.
Resource recovery from faecal sludge
Poor or non-existent management and treatment of faecal sludge is a global problem. Inefficient dewatering of faecal sludge is currently the greatest obstacle to developing and implementing efficient treatment systems. In this project, the team researches the fundamentals of faecal sludge dewatering. The faecal sludge will be treated, dried and pressed into pellets, which can be used as biofuel. In the future, NEST will be heated by the pellets.
Documentation
Further information on the Water Hub can be found in the following articles and publications.
Conference papers
B. Etter, A. Wittmer, B.J. Ward, K. M. Udert, L. Strande, T.A. Larsen, E. Morgenroth (2017)

Water Hub @ NEST: Practical Implications of Source Separation, 22 - 26 October, Nantes, France

B. Etter, A. Wittmer, B.J. Ward, K. M. Udert, L. Strande, T.A. Larsen, E. Morgenroth (2016)

Water Hub @ NEST: A Living Lab to Test Innovative Wastewater Treatment Solutions, 14-16 September, Athens, Greece
Publications
Larsen, T. A.; Hoffmann, S.; Lüthi, C.; Truffer, B.; Maurer, M. (2016)
Emerging solutions to the water challenges of an urbanizing world,
Science
, 352(6288),
928
-933
,
doi:

10.1126/science.aad8641
,
Institutional Repository
Team