Department Sanitation, Water and Solid Waste for Development
Projects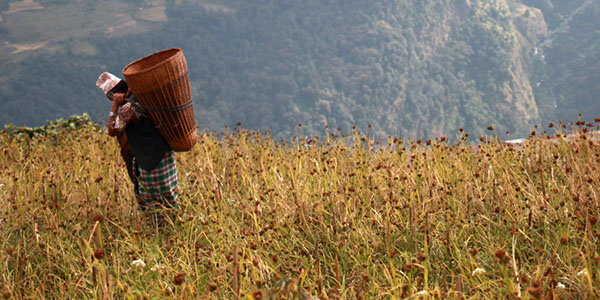 Sandec conducts projects worldwide in close collaboration with international and local partner organisations. These projects contribute to increasing the research capacity and professional expertise in the partner countries, and are part of the work of our five research groups:
Strategic Environmental Sanitation Planning
Municipal Solid Waste Management
Research Projects
Carbonization of Urban Bio-waste
Carbonization is a process during which biomass is heated in the absence of oxygen; the primary goal is to produce char. This char can be further processed into briquettes and used as household cooking fuel. The objective of our research on slow pyrolysis and hydrothermal carbonization (HTC) is to explore the potential of using organic waste to generate a char product that has a value in the local market as a replacement for wood-based charcoal and thus, could be a financial driver of organic waste processing businesses.
FORWARD - From ORganic WAste to Recycling for Development
FORWARD is an applied research project that develops integrated strategies and technologies for the management of municipal organic solid waste in medium-sized cities of Indonesia. Designing organic waste treatment for value rather than treatment for disposal is at the core of this research project.
Black Soldier Fly Biowaste Processing
Many organic waste sources have a high nutritional potential and thus make an excellent feed substrate for insect larvae in general, and the larvae of the black soldier fly (BSF), Hermetia illucens L. (Diptera: Stratiomyidae), in particular. Given the right circumstances, the larvae are able to reduce the material by 50-80% and they convert up to 20% into larval biomass on a total solids basis within ±14 days.
SIBRE – Sustainability of Insect-Based Recycling Enterprises
SIBRE is a project generating knowledge and developing tools for small & medium enterprises and municipalities on the economic perspectives of using Black-Soldier Flies (BSF) for valorizing organic waste.
Anaerobic digestion of organic solid waste
Besides composting or direct animal feeding, anaerobic digestion (biomethanation) of organic solid waste is considered a promising treatment option for this particular waste fraction. Anaerobic digestion is a natural biological process that converts biomass into energy (biogas) in the absence of oxygen. Biogas – a mixture of CO2 and methane (CH4) – can be used as a renewable energy source for cooking, lighting or to generate electricity, thereby replacing other fuel sources. Biogas digestate is a nutrient-rich fertiliser that can be applied in gardens or agriculture.
Decentralised composting
The existing physical plan and socio-economical situation of many cities in low and middle-income countries strongly favours the implementation of decentralised systems. Decentralised composting systems are less technology dependent. Low cost, locally available materials and simple technology can be used. Our research on composting includes co-composting of organic waste and faecal sludge as well as market demand for compost from organic waste.
Management of Excreta, Wastewater and Sludge
Water Supply and Treatment
Research Projects
Naturally occurring chemical contaminants affect the health of millions of people worldwide. The two most important contaminants, in terms of health impact, are arsenic and fluoride.
In order to reduce the consumption of geogenically contaminated water, economic, institutional, and psychological factors are at least as important as technical ones. The Water Resource Quality (WRQ) project brings together researchers from different fields to develop a holistic framework for mitigation of arsenic and fluoride contamination of drinking water.
In many areas worldwide the central water infrastructure is not available at all, or not reliable, leading to microbially contaminated water at the tap.
In such cases, decentralized water treatment such as filtration, chlorination, boiling, or solar disinfection (SODIS) can be applied. Our current main research project centers on ultrafiltration with the Gravity-Driven Membrane (GDM) filter technology.
Sound management of chemical and microbial drinking water quality is frequently hampered by inadequate monitoring and surveillance. The WST group supports development of capacity for water quality monitoring and surveillance, by making use of new and emerging testing approaches which can be applied under challenging circumstances, by people with little technical background. As water quality data becomes increasingly available, monitoring and surveillance can better inform the design and redesign of projects, policies, and global programmes such as post-2015 development goals.
This collaborative project with Winrock International will assess the impact of Multiple-use Water Services (MUS) projects in Burkina Faso and Tanzania.
In many parts of the world, drinking water supplies regularly exceed the contamination limits set by WHO and are the cause of disease outbreaks and deaths, as well as stunted growth in children. The treatment and monitoring of water supplies is often not done because of social, economic and technological hindrances, particularly in remote areas. Sandec's Water Supply and Treatment Group is developing monitoring and evaluation tools to facilitate water testing and health risk management in remote areas and is presently conducting pilot studies in the mountains of Nepal.
The Water-Energy-Environment (3E) programme was launched in 2012 with funding from the Swiss Agency for Development Cooperation (SDC) to support scientific partnerships between the International Institute for Water and Environmental Engineering (2iE) of Ouagadougou, Burkina Faso, and Swiss universities and institutes (EPFL, HEIG VD and EAWAG). The focus is the fate and transport of arsenic on the environment, and the first phase (2012-2016) analysed the development of risk maps and mitigation technologies for the removal of arsenic from drinking water. The project received a one-year extension (2017) to assess the uptake of arsenic in food products (i.e. the impact of irrigating and cooking with arsenic contaminated water), as well as current practices in term of drinking water quality monitoring (chemical and microbial water quality).